Childrens Birthday Cards
Written and Created by PaperCraftCentral Susan

Childrens Birthday Cards can be quick and easy to make with your Big Shot machine.
"It's as simple as A B C, a birthday's more fun if you share it with me!"
~Anonymous
---
Childrens birthday cards are fun to make when you have a Big Shot machine and a scallop circle die. I always want to take a special card along to a young person's celebration but know my carefully prepared greetings could get ripped and scrunched along with the wrapping paper, so why not make a quick and easy punch art card for the youngsters? These will even rock back and forth if you stand them up. That's interactive, right? Children like interactive things.

Here's what you will need to make my Childrens Birthday Card:

A Scallop Circle die and #2 Circle die
Cardstock cut into normal sized card bases (1/2 an A4 page, folded in half, per card) in a red colour and Pacific Point (blue) NLA,  and ink pads to match
Stampin' Sponges or daubers
Scraps of cardstock in Whisper White, Peach Parfait (light peach) NLA, Crumb Cake and Basic Black
Crumb Cake ink pad
Round punches – 1 ¼" for nose, 1 ¾" for the whites of the eyes,
Scallop Circle punch and small circle stamp for the cookie
Basic Black ink
Here's what to do:
Make a hinge for your card base by laying one of your card bases on the scallop circle die, aligning the card opening with the bottom of the scallops. Where the card is folded, it will not quite cover the die. This part will form the hinge of the card and not be cut when you cut the scallop shape. Go ahead and roll the cardstock and die through your Big Shot machine.
You will now have a double scallop circle that is hinged at the top. Make another card base from the other cardstock using the Scallop Circle die.
Now take the #2 circle die. Cut four small Basic Black circles for pupils, cut one large black circle for the two mouths and cut that in two with your paper trimmer, then shape the top of each mouth with scissors
Cut a nose from the Peach Parfait cardstock with your 1 1/4" circle punch, then cut four circles as whites of their eyes from Whisper White cardstock with the 1 1/4" circle punch.
Cut a cookie with the 1 1/4" circle punch from the Crumb Cake cardstock and take a bite out of it with the Scallop Circle punch. Stamp it with your small circle stamp in Basic Black ink to make the chocolate chips. You can also sponge the cookie edges in Crumb Cake
Sponge around the scalloped card bases with ink the same colour as the cardstock (Poppy Parade red and Pacific Point blue) NLA to add some dimension.
The pieces should look like this:
Now you can assemble your Cookie Monster and Elmo cards: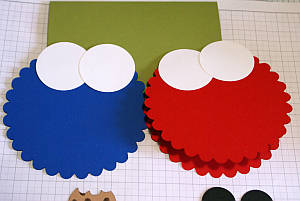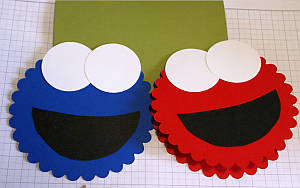 I showed some ladies at my card class how to make these little guys and we wound up with such different expressions on each card. See what I mean? Even the decorated envelopes are different.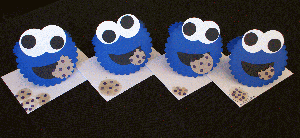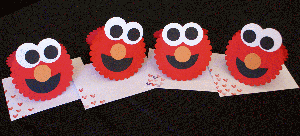 Here's another card made with punched circles of different coloured cardstock. I added details with a black journaling pen and a few other shapes for the hat and flag: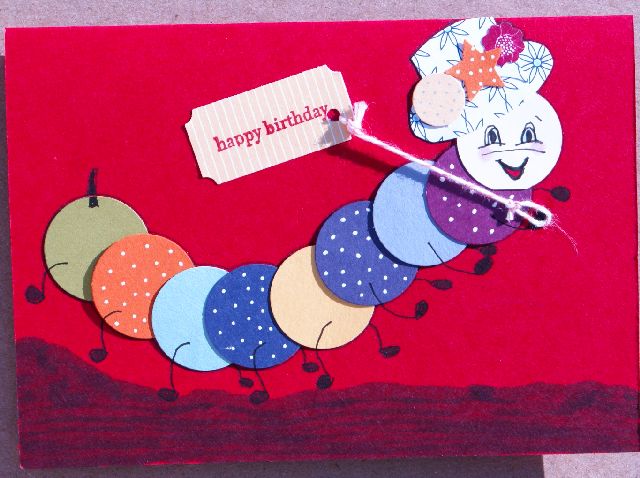 Other Inspiration Sources for Children's Birthday Cards

Now you know how to make some quick and simple childrens birthday cards with your Big Shot machine.But what if you need more inspiration to make your card?

HINT: When you see a card you like, remember it does not have to be a children's card to be made into one.
Think how you could use the fold, technique or layout of a card you like and alter the images, sentiment and embellishments to make it into a children's card.
Think about the colours and images the child likes right now. Do you have any of those things in your craft stash? How could you adapt them to the card idea you saw that isn't a children's card yet?
Inspiration for crafting comes from everywhere, the child themselves, other people's work, magazines, websites, catalogues etc.
The Stampin' Up! catalogue is actually named the Ideas Book and Catalogue, just for that reason! The company hires graphic artists and real card makers to create their projects, Why not take advantage of the ideas you see there and adapt them to your own supplies?

I will make some suggestions below for other pages on this site that may inspire you to create for your child.
Happy creating!
You may also like to know how to make:
And there are a few more Children's Card Ideas plus many other card ideas types on these pages:
---