Some Card Ideas from 2022

Written and Created by PaperCraftCentral Susan

Are you looking for card ideas? On this page I have added some card ideas from 2022, projects I developed for my regular classes being held each month, or just from my own craft desk.
Some of the cards featured on this page are made by people who attend my classes using kits and instructions I provided for them.


How do I set up for small classes at home? Well, I take over the dining room table and kitchen benches is how!
Then I set the places for each guest with some grid paper, any orders they have been expecting, a Wish List sheet, and of course, their projects all cut up to create in a cellophane bag. I include any instructions typed up on a A4 piece of paper, including the template if needed. This month we made paper purses that I created a design for, so we needed instructions, kits and a template!
Paper Purse Card Ideas
You can turn a little three-dimensional paper purse into a card by adding a special message inside, and a chocolate bar doesn't go astray either!
I ran parts of my paper purses through and embossing folder for a stamped leather texture.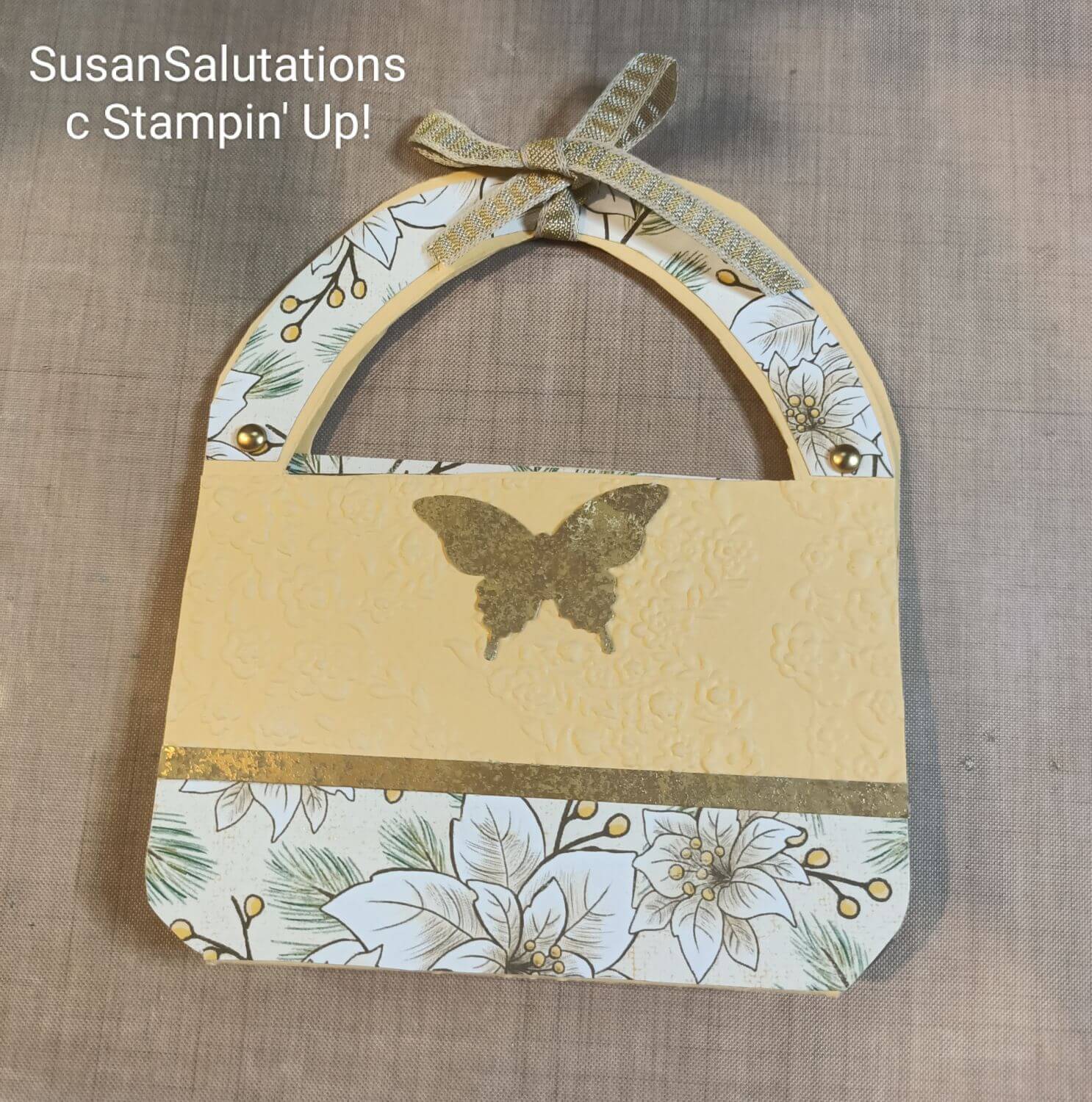 For this Bermuda Bay coloured purse, I chose the Gingham Embossing Folder to add texture to the handles and upper parts of the bag.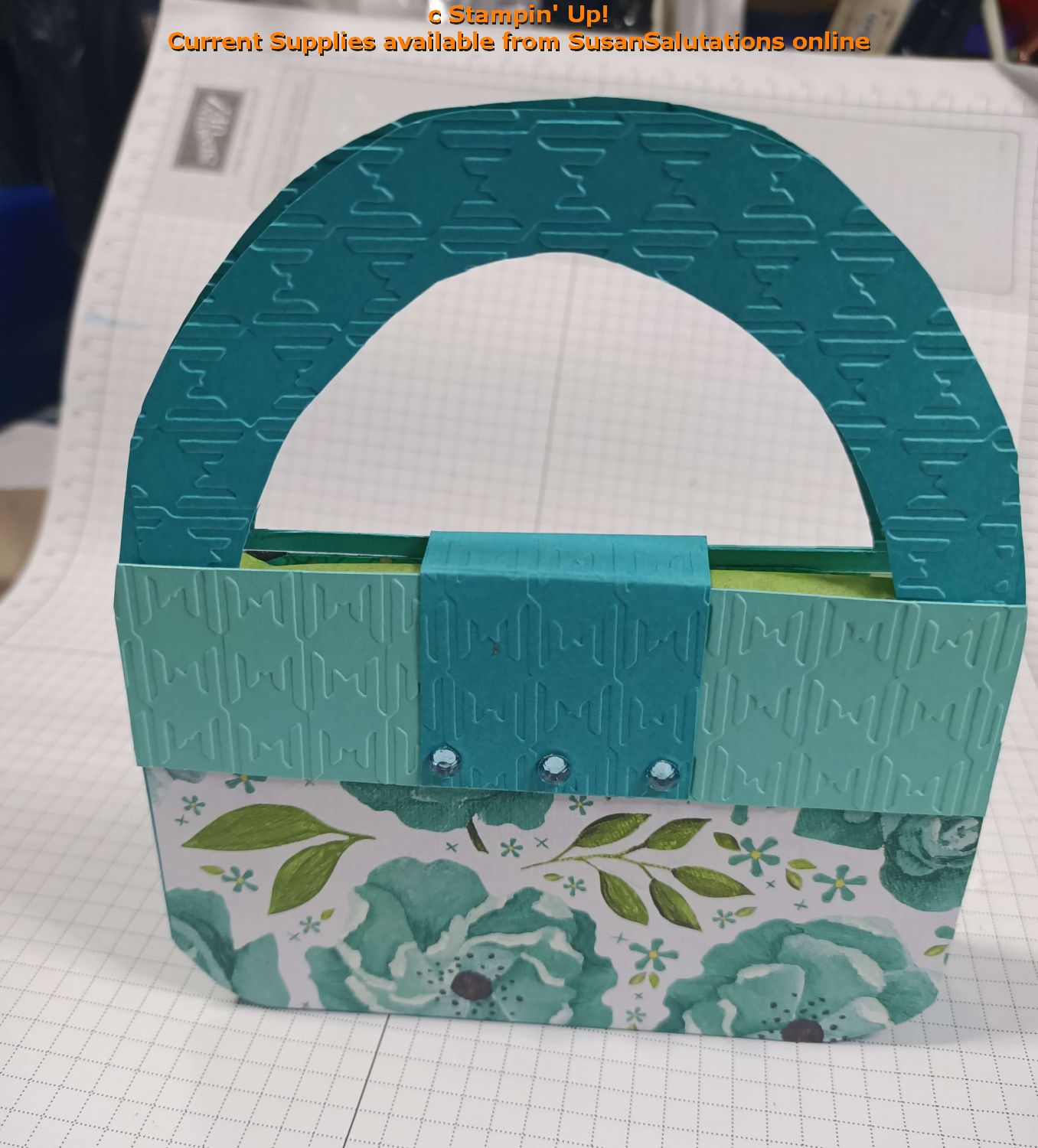 That's the Hues of Happiness Collection designer series paper on the sides of the bag and inside as well.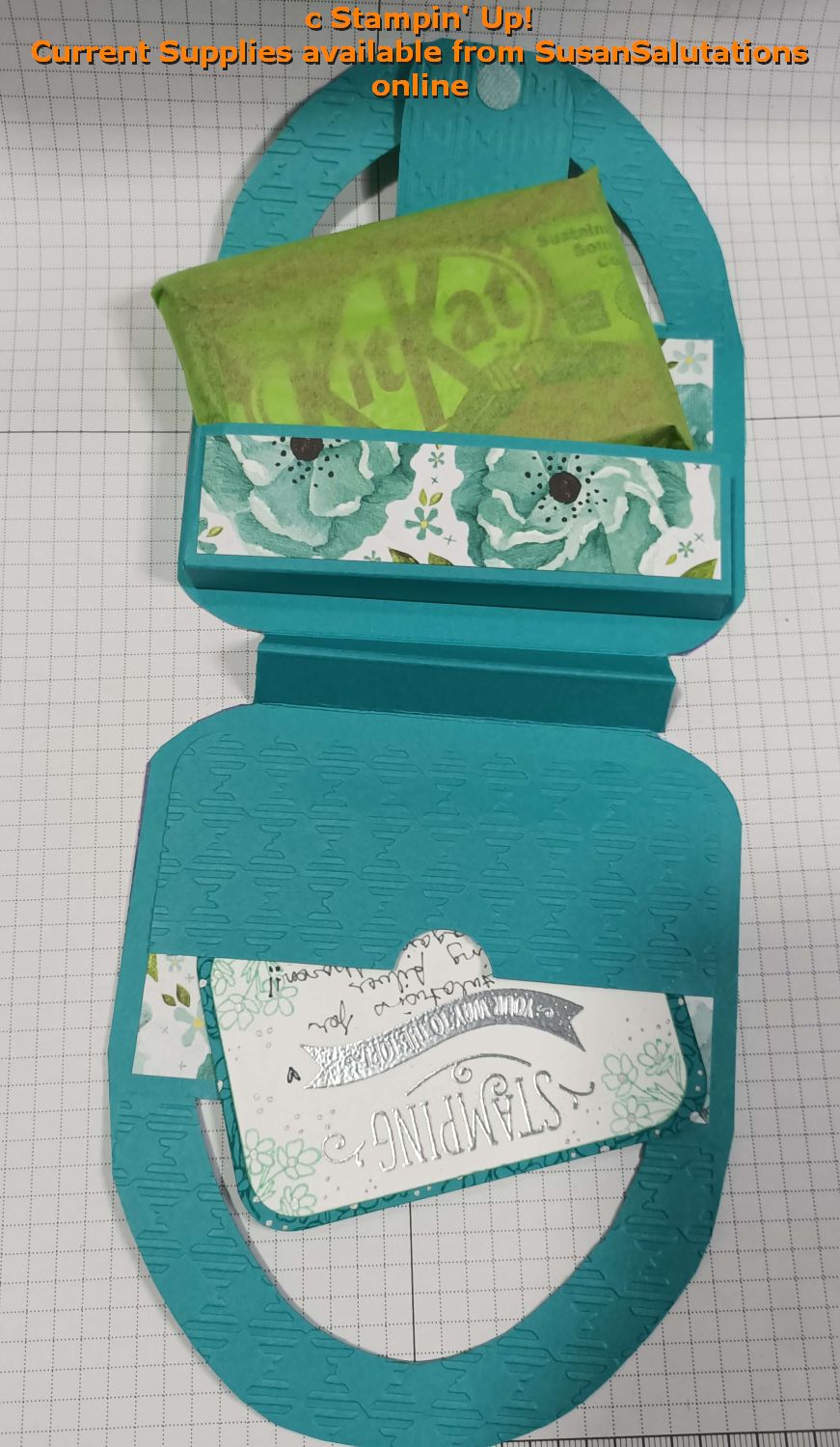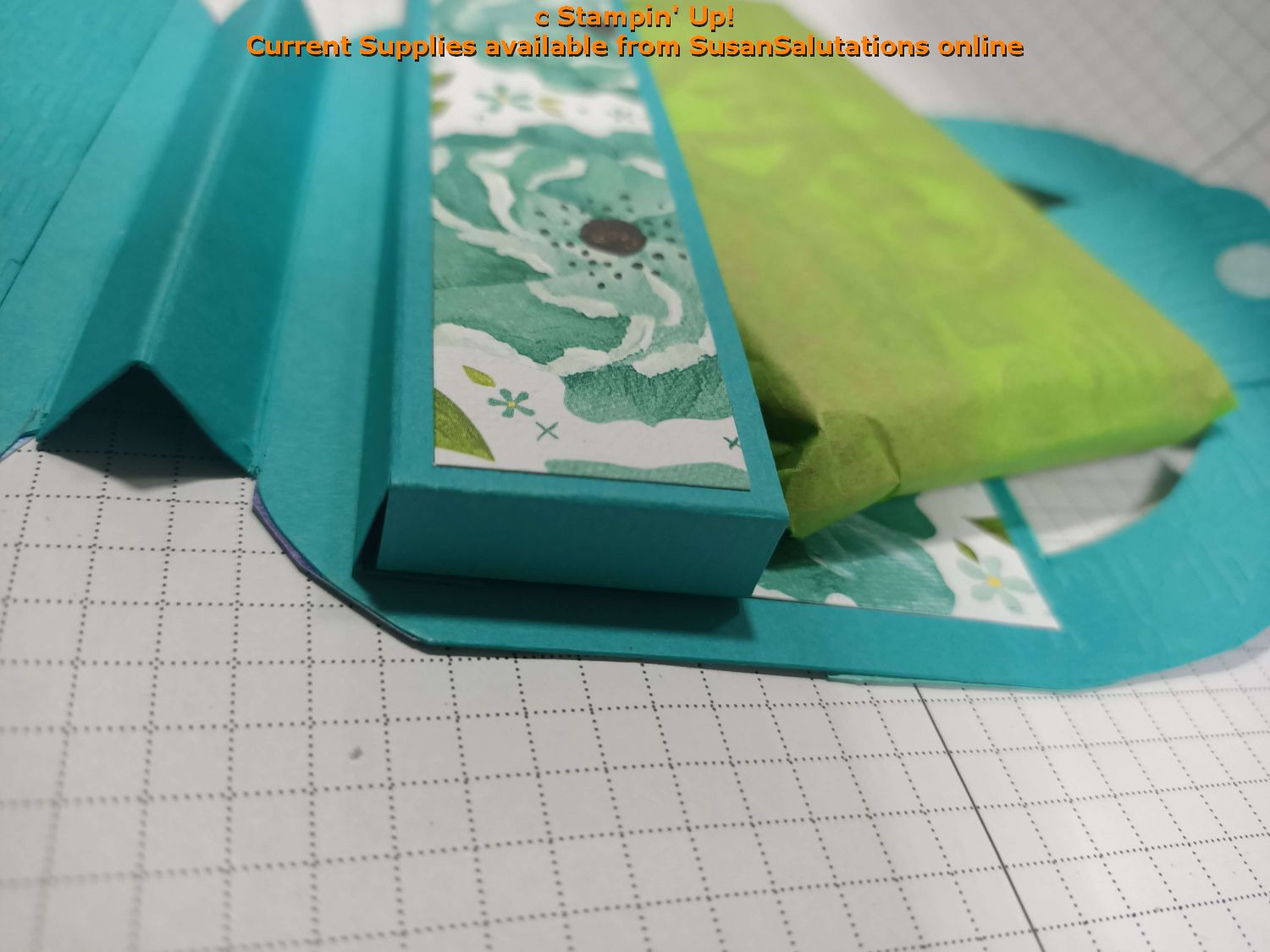 I was busy holding classes, traveling, celebrating World Cardmaking Day and more in these two months! Here are some of the pictures I took for the World Cardmaking weekend event my friend Sharon held at Studio Shabaz, Central Queensland, Australia.
The  card ideas were flowing that weekend for sure!!
Just some card ideas from 2022.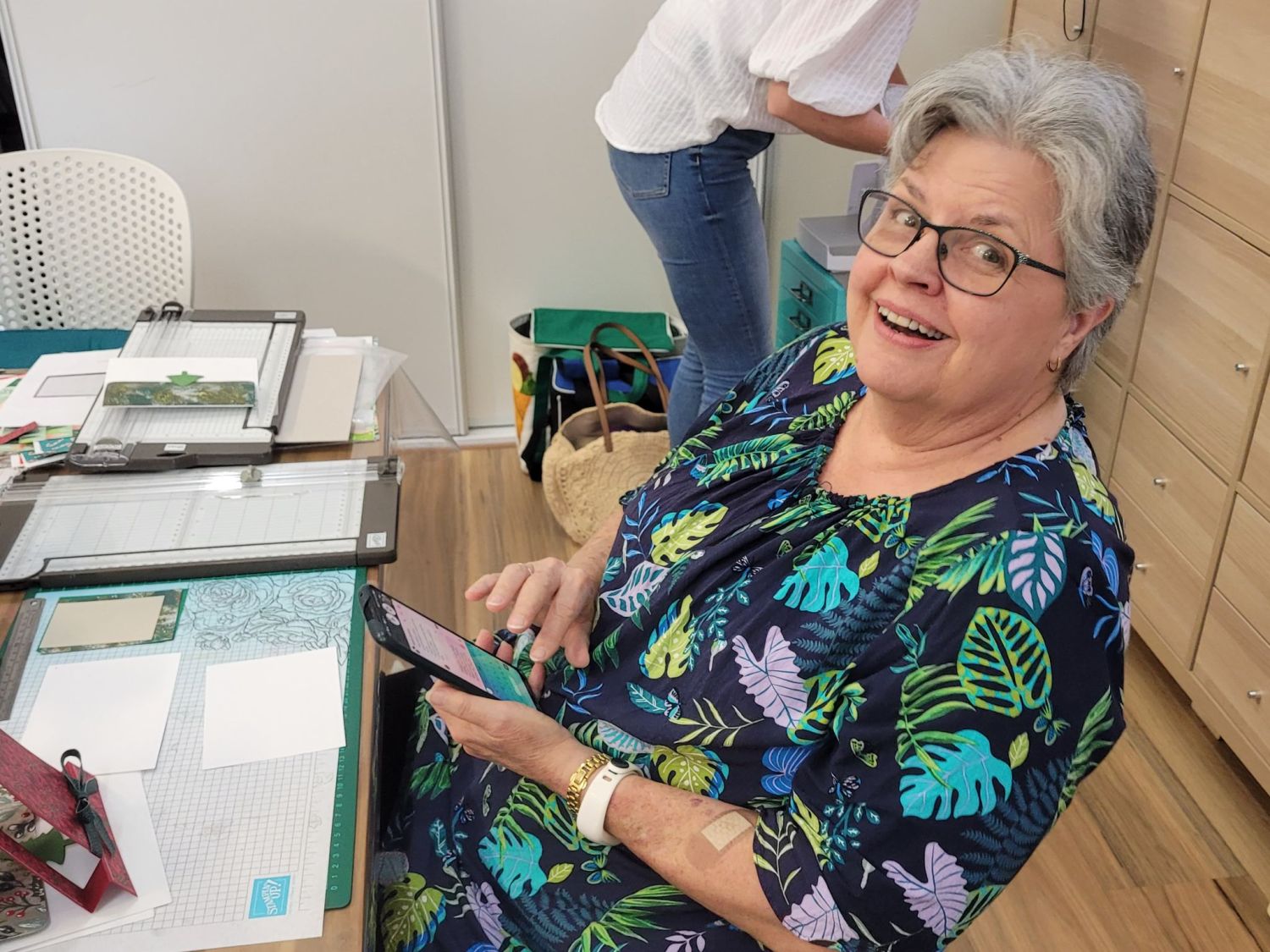 The Abigail Rose suite collection was a main feature in the top two cards. The Cottage Rose stamp from that suite is so pretty.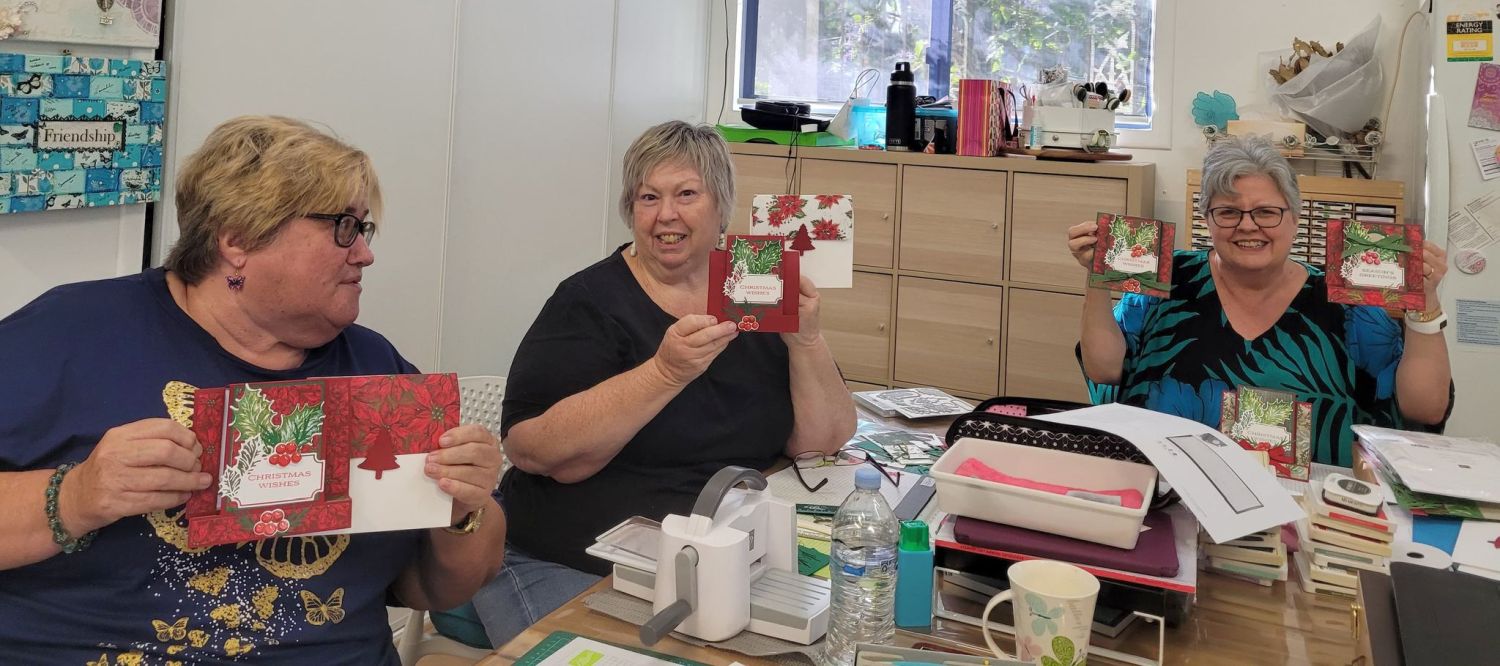 The mask being used here was from the Artistic Mix Decorative Masks set. Sharon was starting out light with some Petal Pink ink, then gradually deepening the colour with some Calypso Coral ink. She used a Blending Brush to pick up and softly place the ink on the mask to create a pattern on the Basic White cardstock beneath.
Read more about World Cardmaking Day so you will be ready in October next year to celebrate a day of fun and friendship!
Just some card ideas from 2022.
Cute Christmas and Holiday Notebooks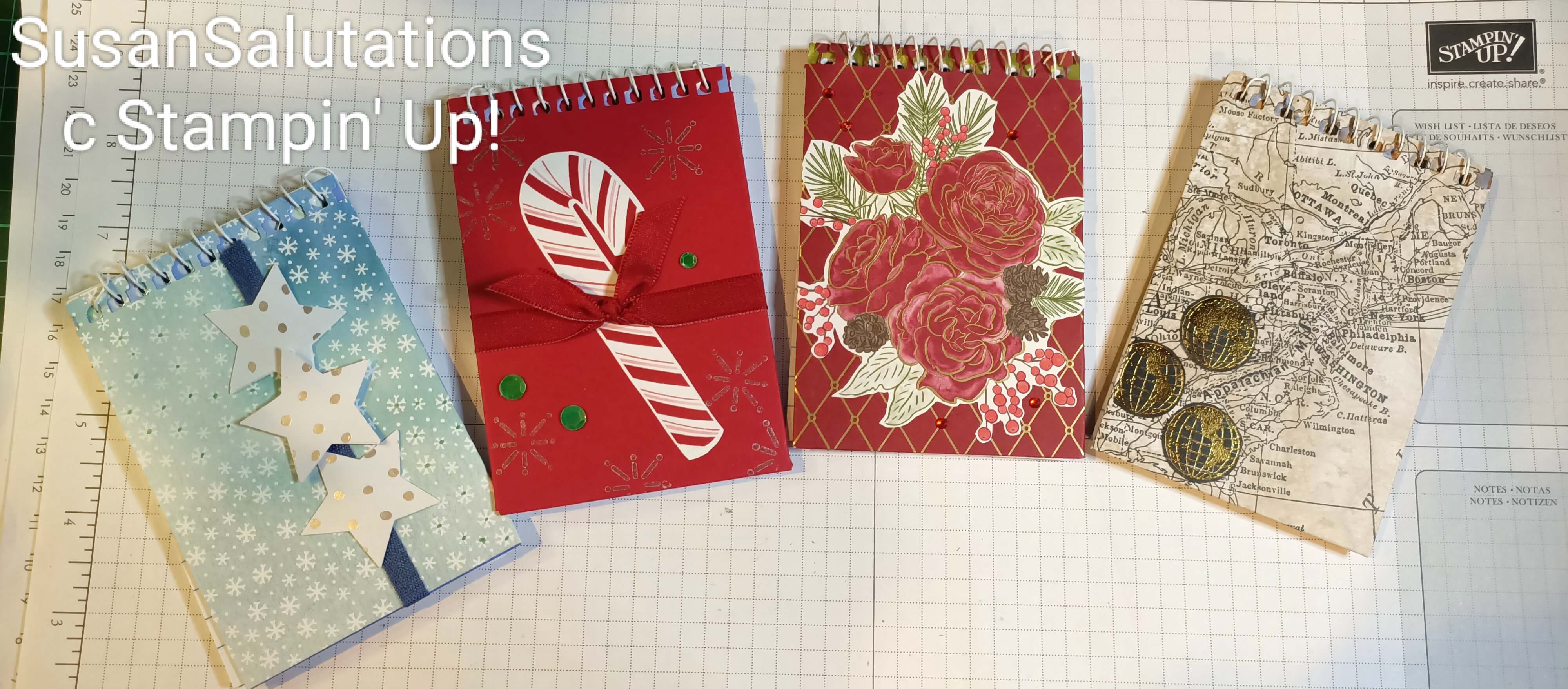 You can turn ordinary small notebooks into something special for Christmas. I made a few using retired and current Designer Series Paper, punches and embellishments. Just cover them like you would a school book! I did have a punch to allow me to get around the spiral rings and that helped them look more finished, I think. (it was a retired Stampin' Up! punch).
Masculine Card Idea with He's The Man Suite
I love the He's the Man Suite for all things masculine!
You can quickly make cards for men with this collection as it has pre-made elements, designer series paper, bling and stamps!
Of course I had to jazz things up a little with a three dimensional pop up inside, but even then the pre made cut outs made it easier to do.

I added a sentiment from the Blessings of Home stamp bundle as well, as it fitted this particular man so well.

This card idea was enhanced by some specialty gold foil cardstock sheets and die cuts, plus the Elegant Faceted Gems.

In August I planned a few more classes with Christmas in mind, and started preparing cards for my own Christmas stash AND for a Christmas Market Stall coming up in November.
Just some card ideas from 2022.
Pretty Class Card Ideas
Fancy Fold Card Ideas - Double Gate Fold Cards

These cards were so much fun to make.
I got the idea from a fellow crafter but made up my own instructions and measurements. It's basically a double door gatefold card!
We chose the Happiness Abounds stamp set and designer series papers for this project.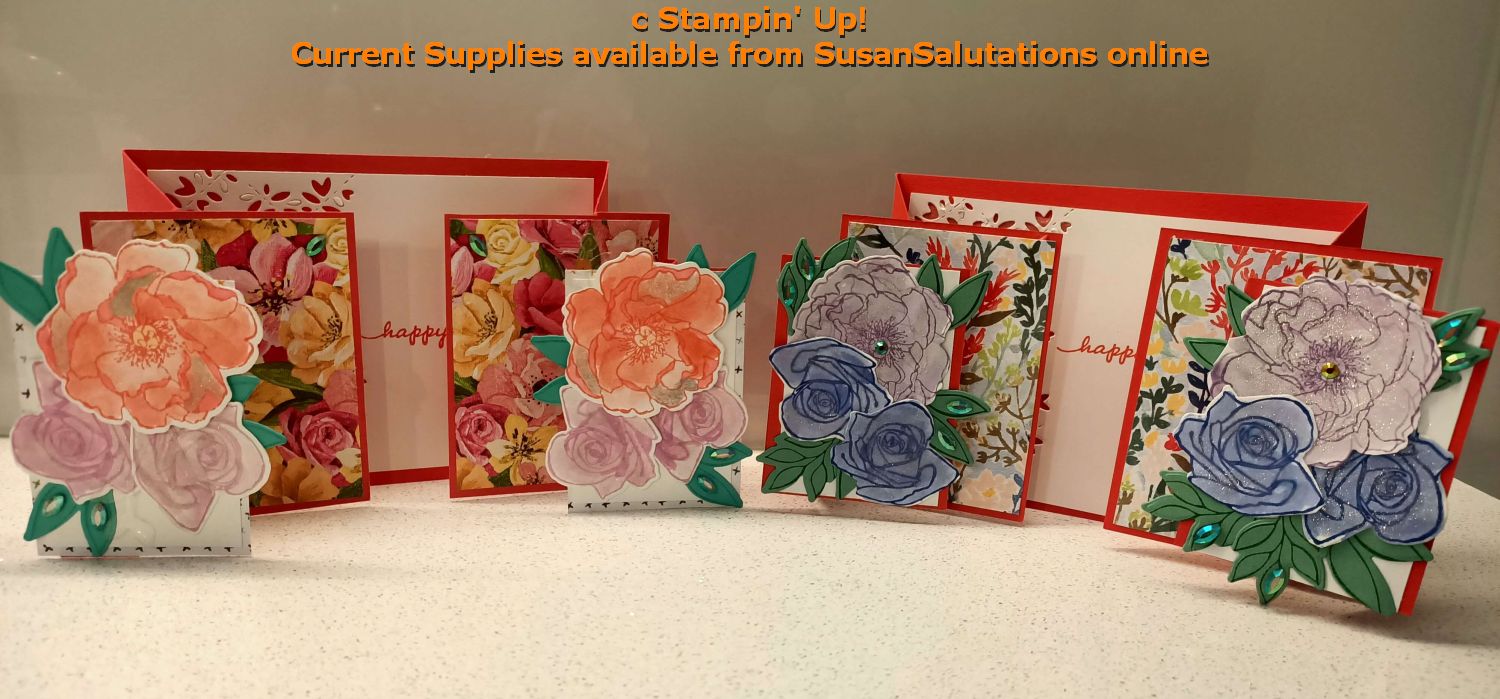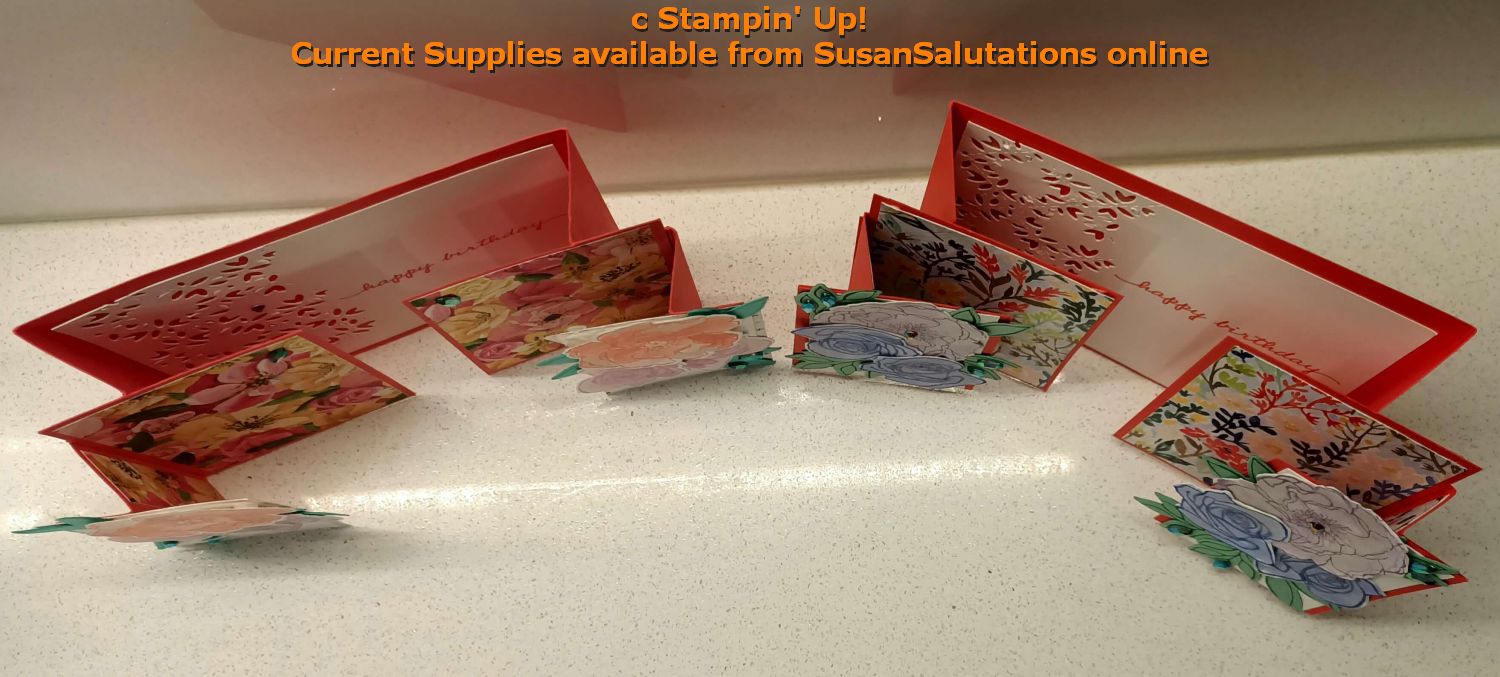 Sweet Candy Canes Card Ideas
The Designer Series Paper for this suite of products is wonderful as the dies coordinate with many of the images! I chose my Sweet Candy Canes dies to cut out some of the multi coloured candy canes for most of these cards.
The stamp set has striped candy canes in it too so you can choose your own colour scheme and stamp a few out then die cut them.
Why not add more to your stamped candy canes with contrasting colours, drawing lines with your Stampin' Write Markers to custom make your ideal candy cane!
You can buy this whole Sweetest Christmas Suite Collection of products at once or can purchase individual components of it.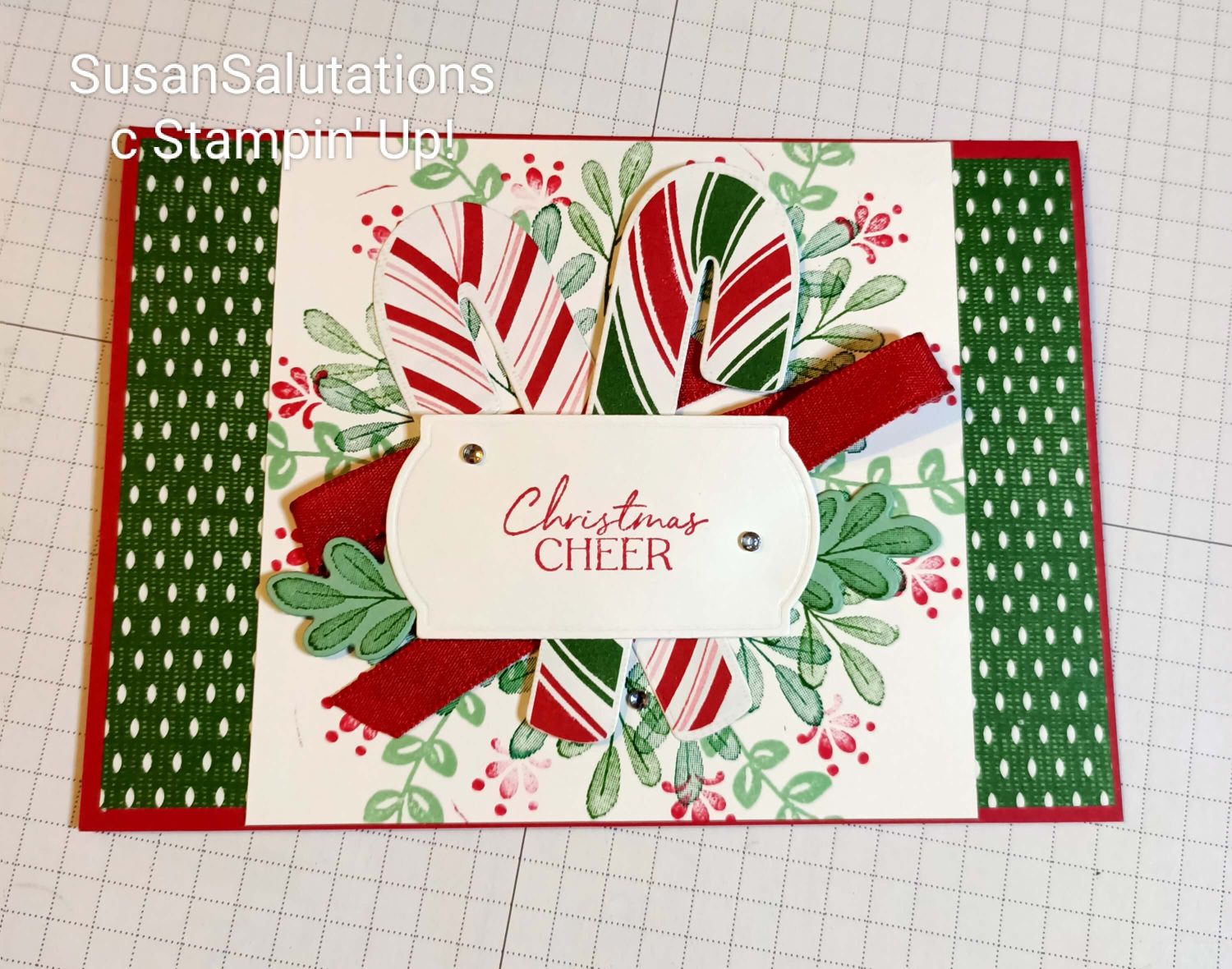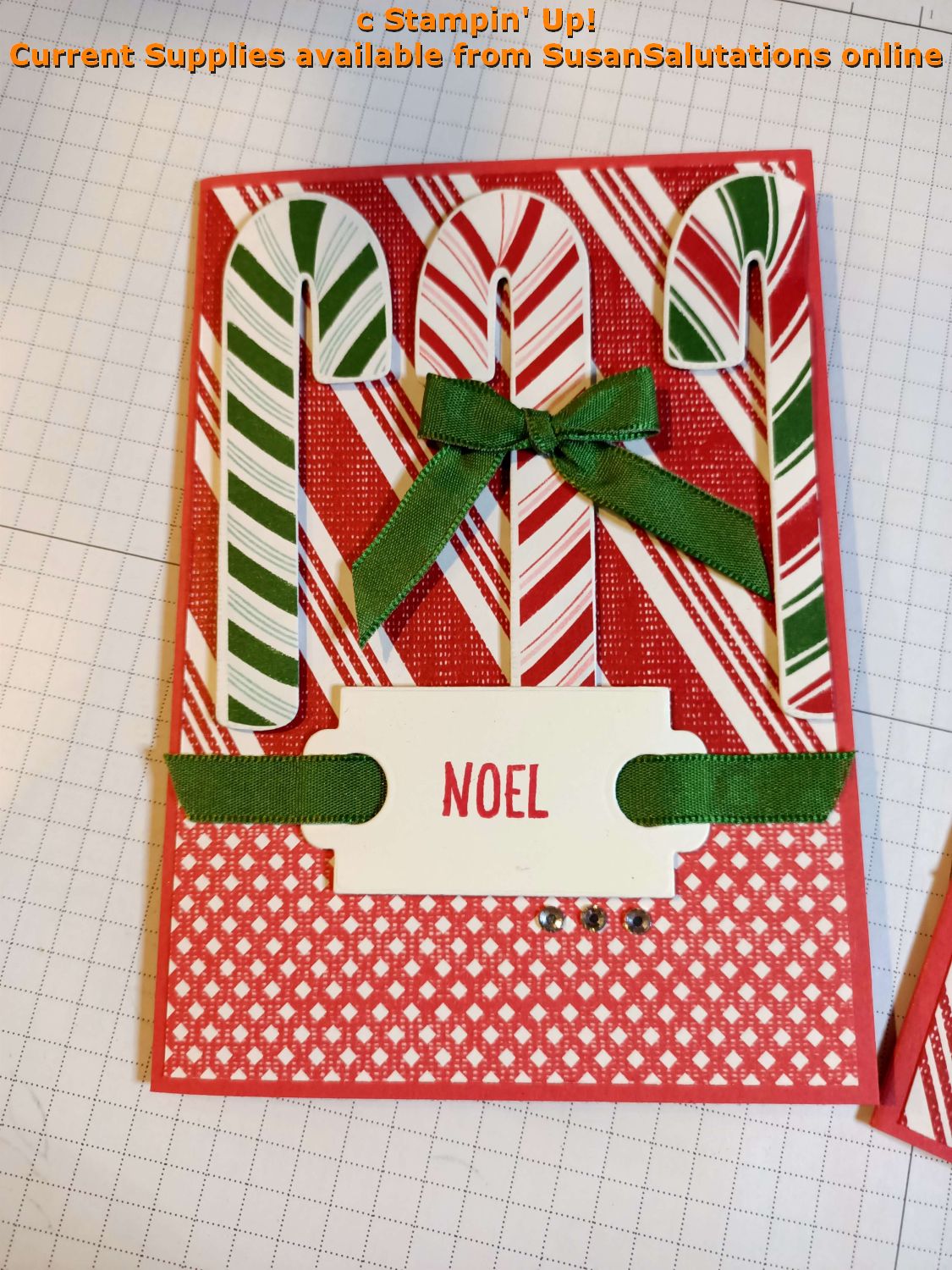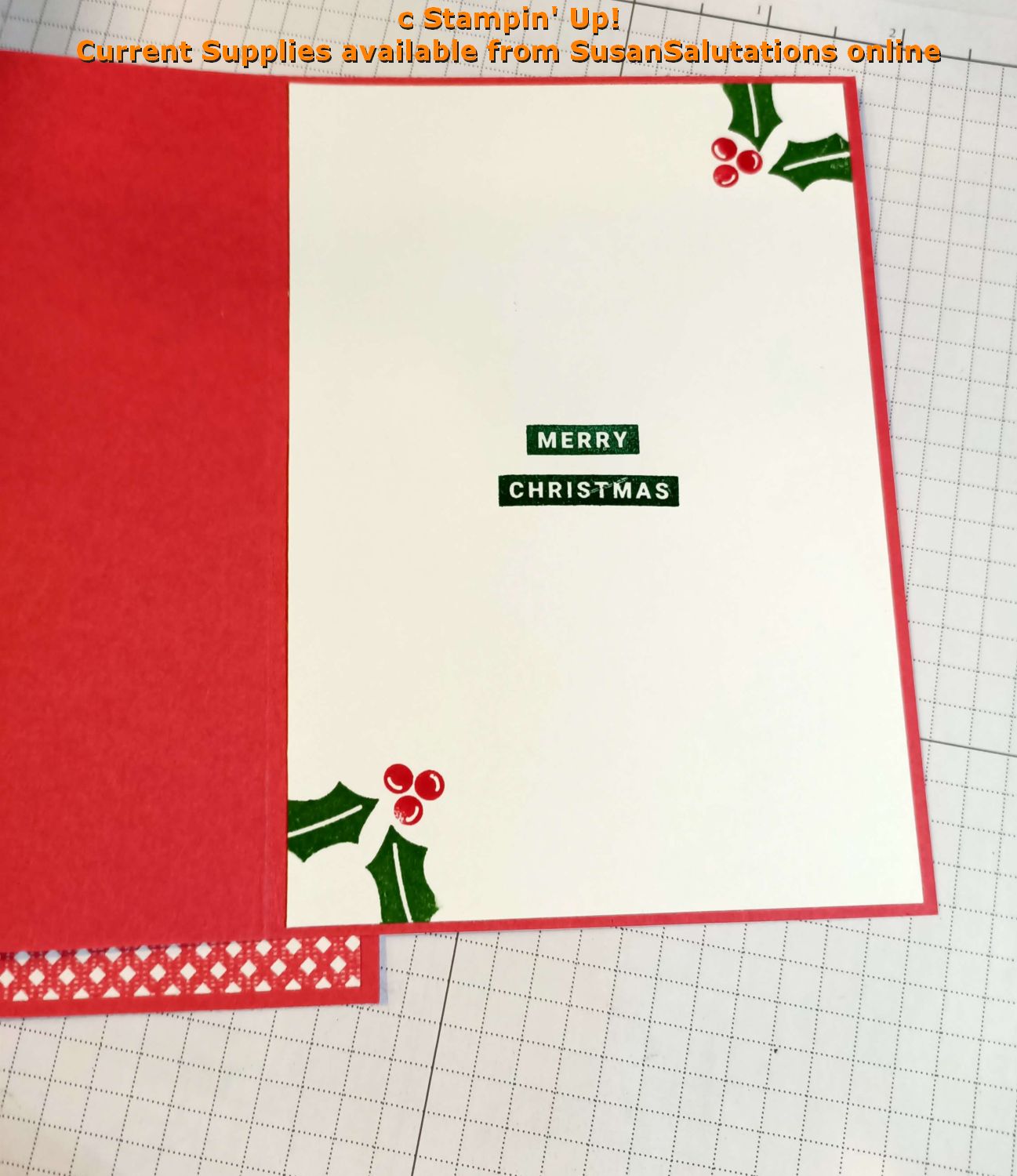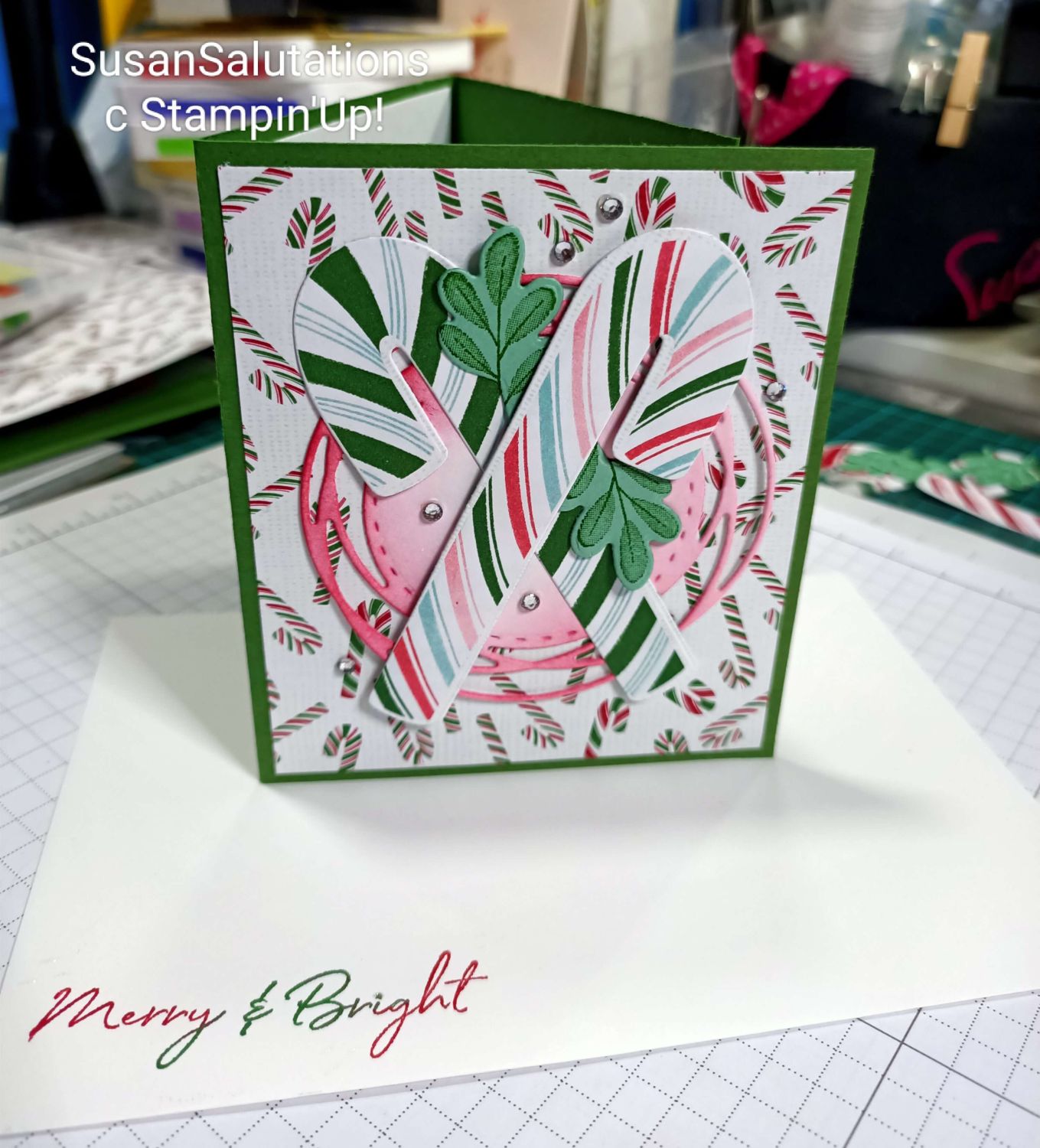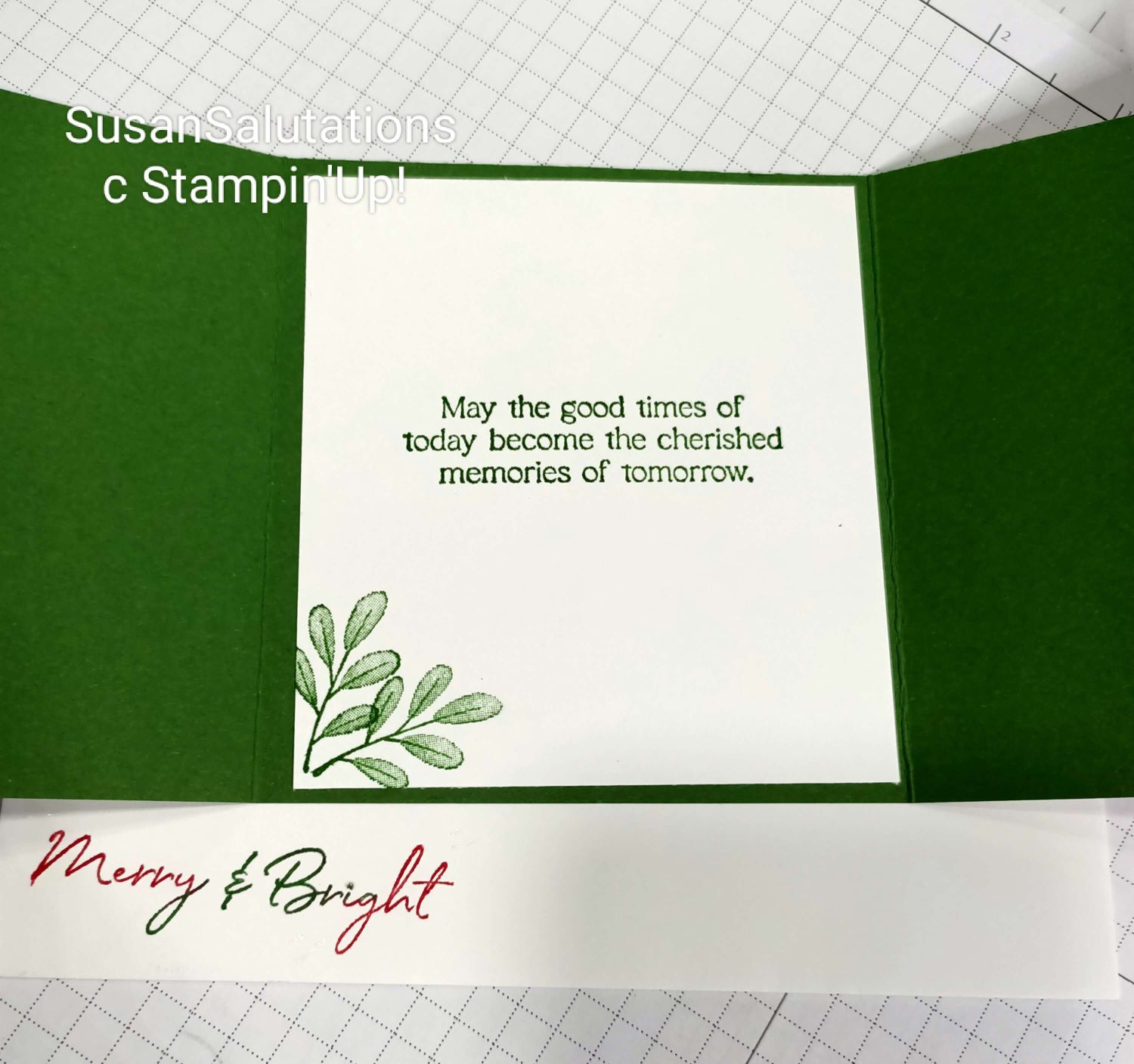 Some of the items I chose to make these cards are in the photo, and below it is the entire Sweetest Christmas Suite Collection.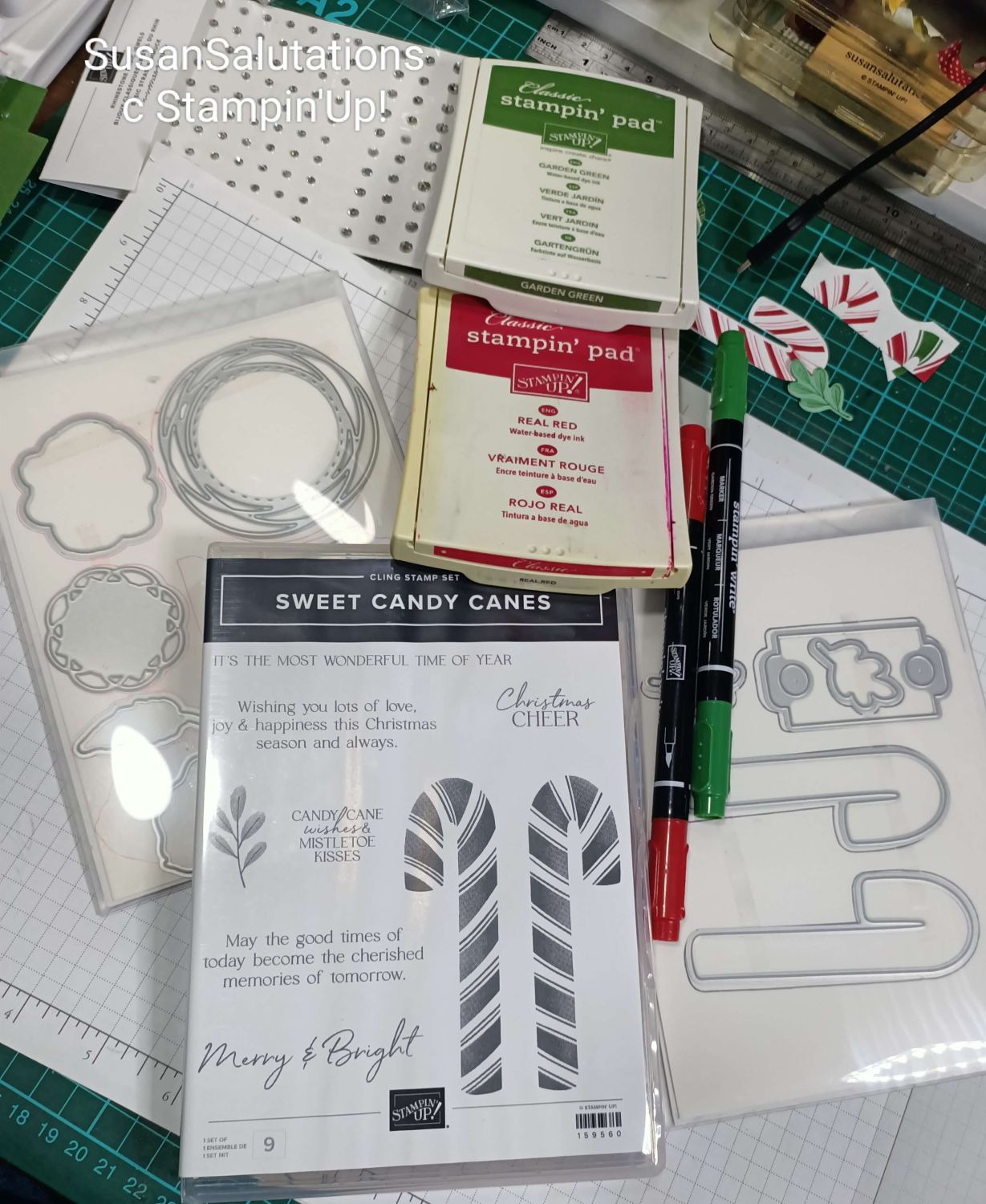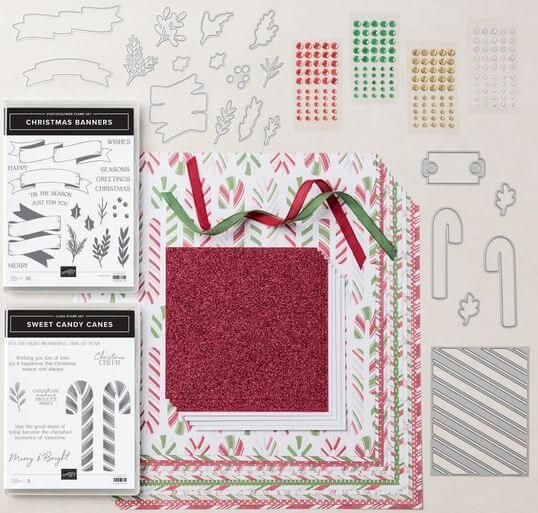 Don't forget to bring out your retired Christmas stamps!
In July we continued to explore more new ideas with our new supplies. That's also when we heard the new Seasonal Catalogue was to be released. with all things Christmas, Hallow e'en, Thanksgiving and holidays that happen in the second half of the year.
Just some card ideas from 2022.
Tea Boutique Card Ideas
The Tea Boutique stamp set and dies called for special card making ideas! This month I held a couple of classes based on the following cards.
With pop up cards, it is best to leave the card front rather plain. Not blank, but not fancy. That's what I did with the first card.
I wanted the middle to be a surprise in contrast to the ordinary-ish front.

Making pop up cards like this one is not really very hard. I cut an ordinary card liner from Basic White cardstock, then cut two shelves from the middle score line. Score the line you form at the top of the cuts, then fold the newly cut sections the opposite way.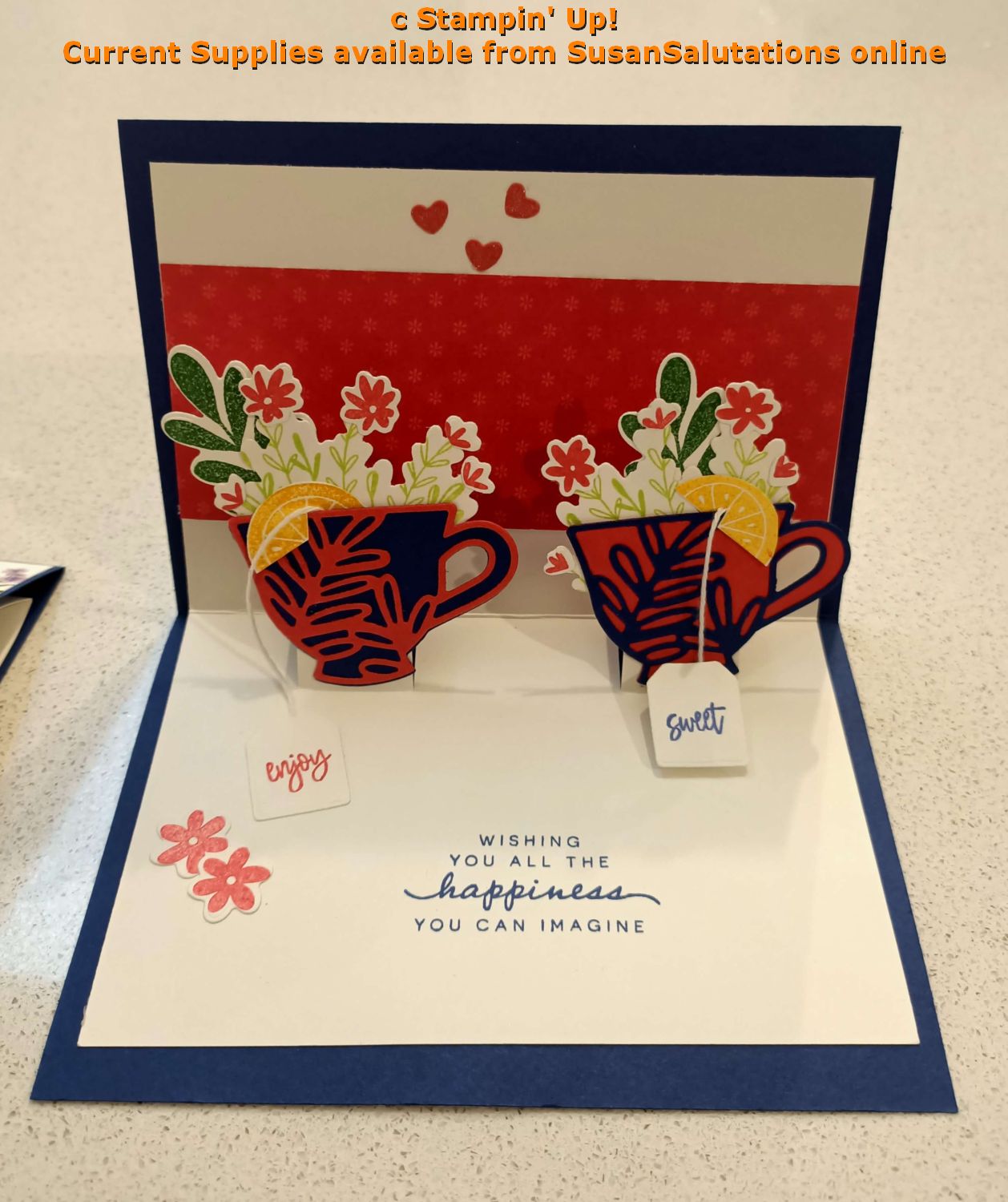 If you would still like a short video tutorial on how to make this type of pop up card, let me know by contacting me and I will see about making one to add to this page.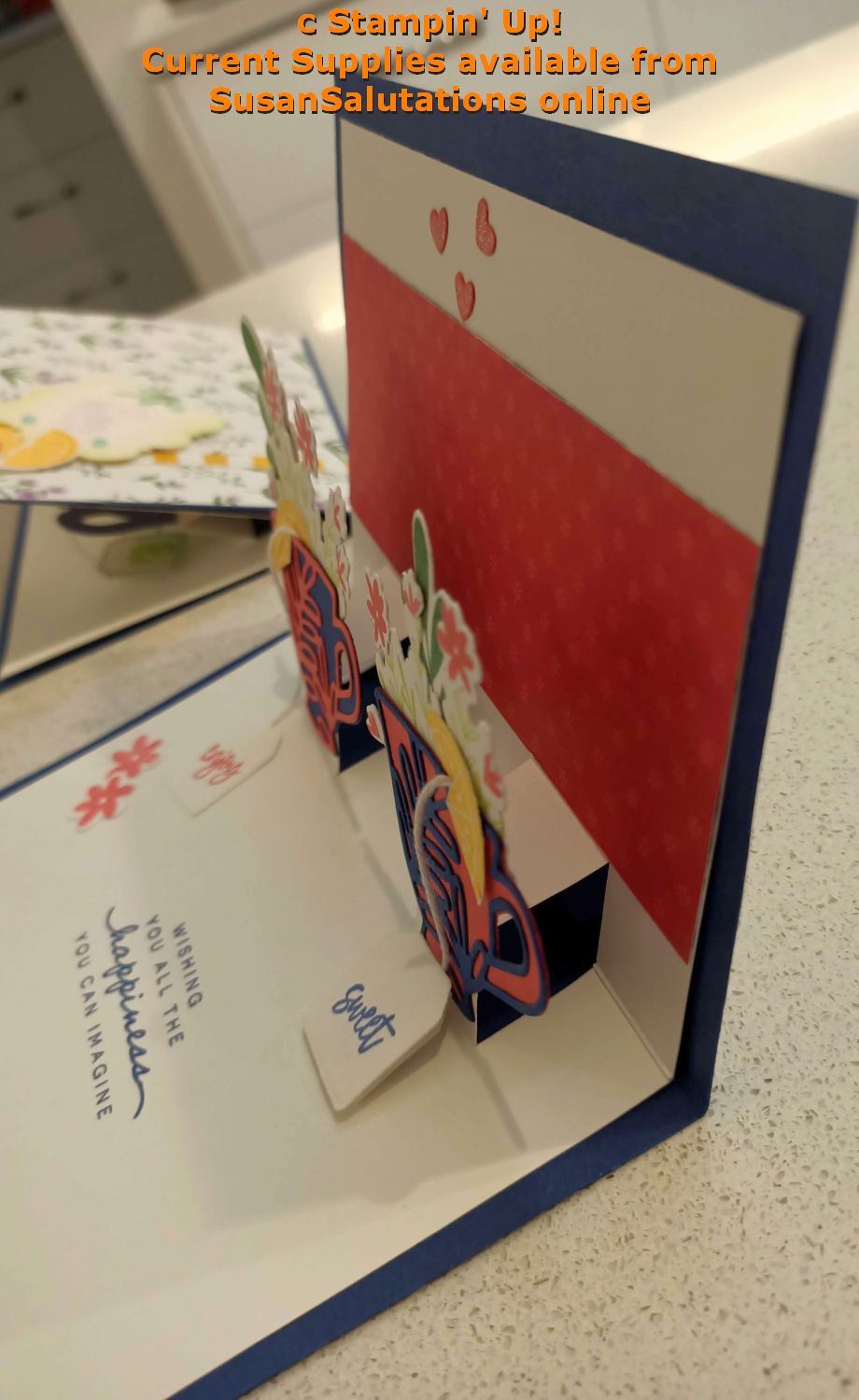 Another card idea we played with this month in classes was the double Z fold card. Again, I chose the Tea Boutique suite to make these.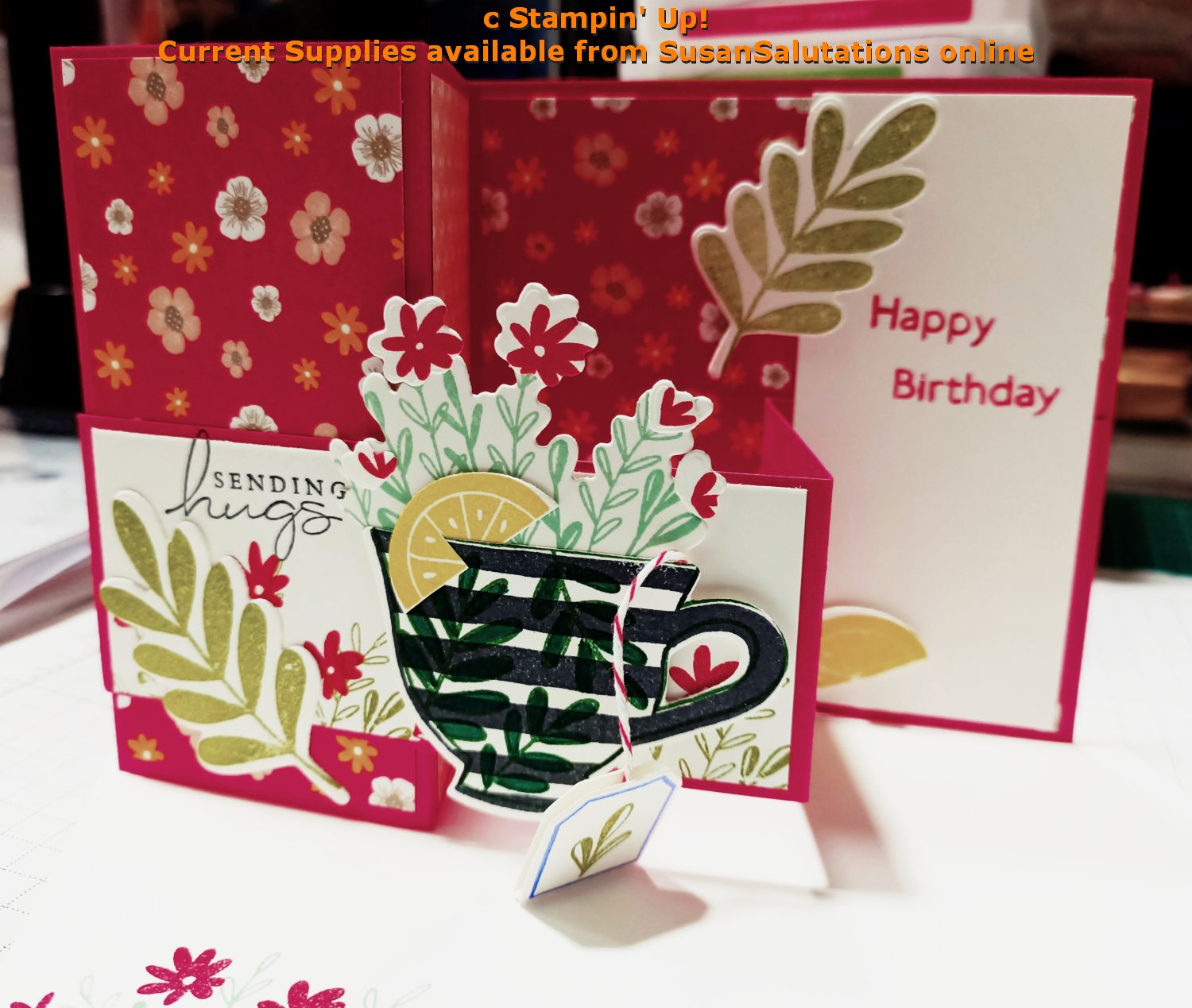 Again, if you want more instructions about making this Double Z fold card, contact me and I will see about making a short instructional video for this page.
Just some card ideas from 2022.
Hand Penned Petals Pop Up Card Ideas
I decided we could take the pop up card idea further by choosing a slimline card base to start with, then adding die cuts to the little shelf I created in the middle.
This time I used the distressed gold metallic paper to create the overlay for my flowers, and the Hostess DSP reward you can find in the back of the annual catalogue, to go under the intricate flower die cut overlay.
This DSP was also used on the rather plain card front.

I hope you enjoyed the July pop up cards and that you try some of these card ideas out for yourself! They are fun to make.

In June we had a new annual catalogue out an I had received my pre-order! Of course we played with some new things for classes and I enjoyed my own craft sessions with the new supplies. It's like being in a candy shop for me to read a new catalogue!
My Birthday Cards
I love belonging to a crafty group where we send each other hand-made cards on our birthdays. This year I received so many inspirational cards! It always makes me want to go to my craft desk immediately and create with the new card ideas I receive.
SUGGESTION: You could get a group of cardmaking friends together for the same purpose! Create a Facebook or messenger group to share your plan, collect addresses, set reminders about when to mail to each other, and of course share the cards you receive and thank the senders.
It's a constant source of joy throughout the year, if you make lots of cards like me!
Thank you, my crafty friends.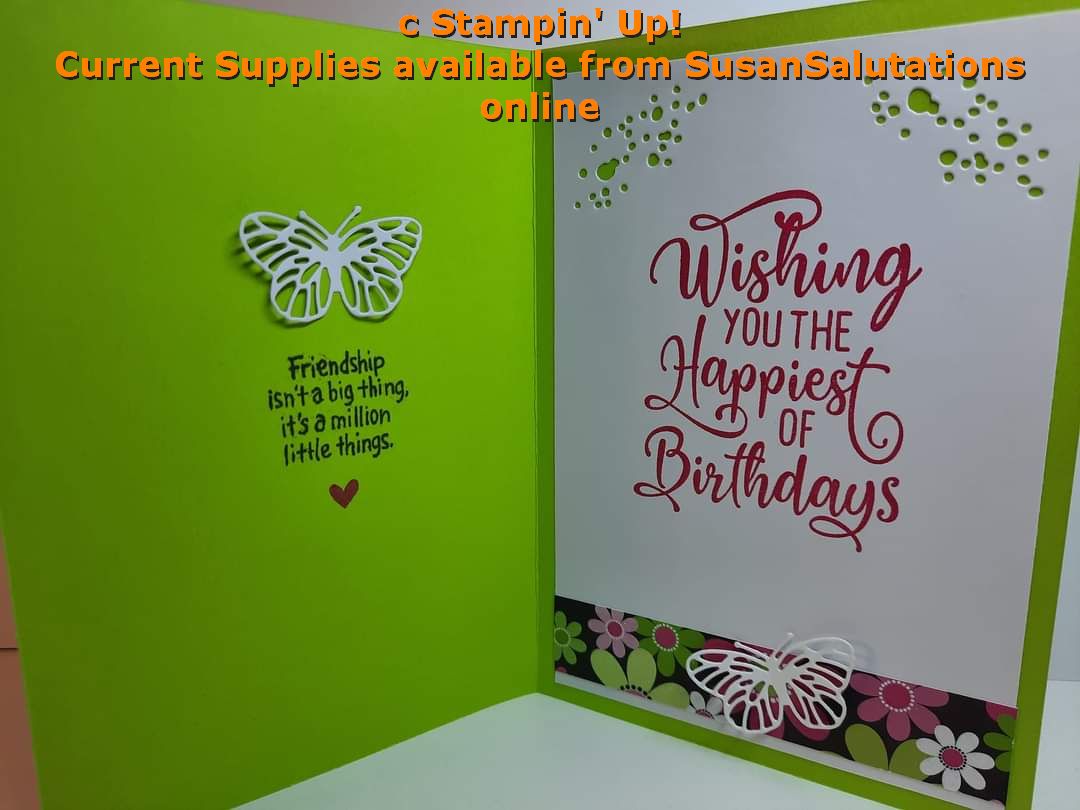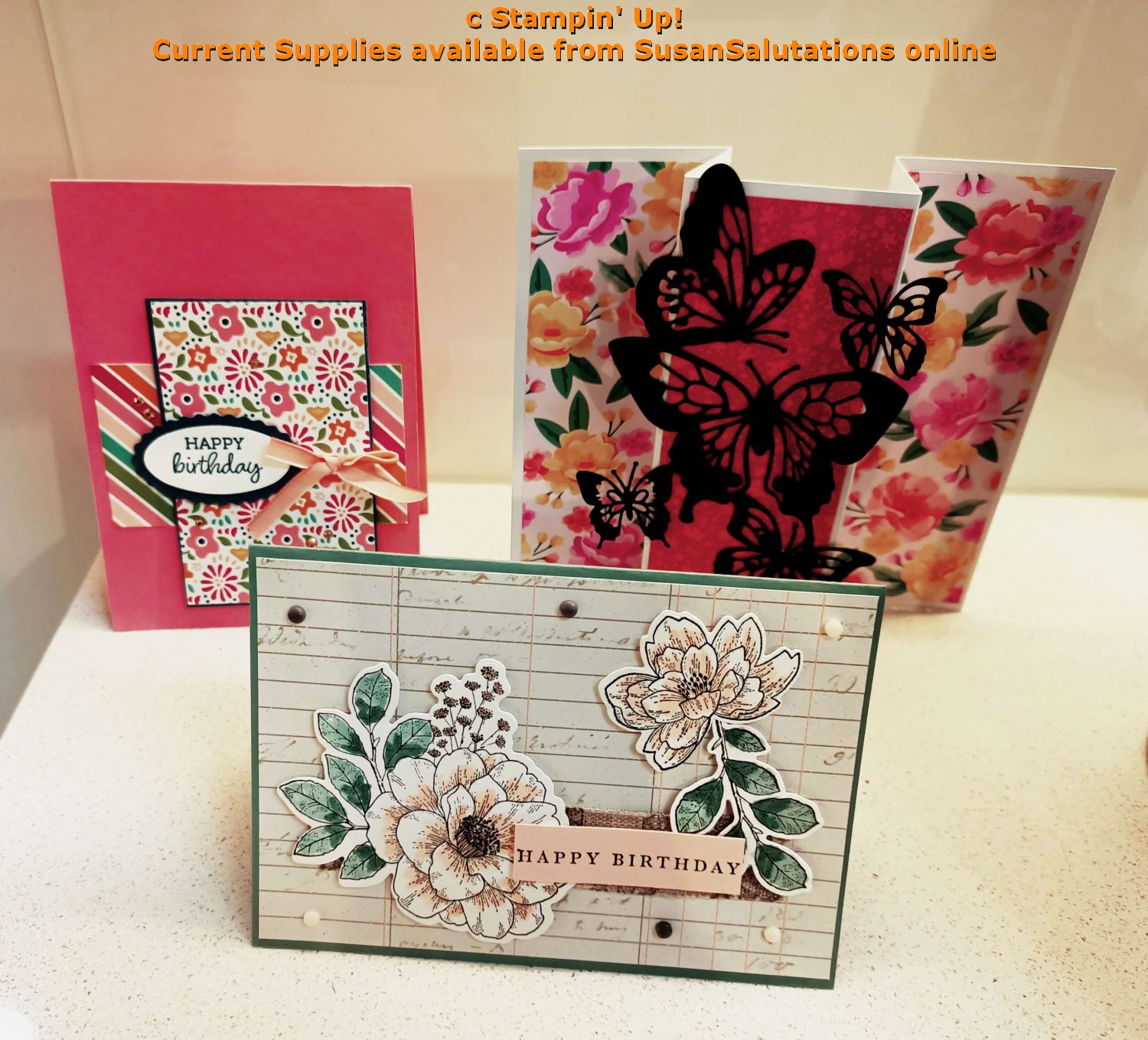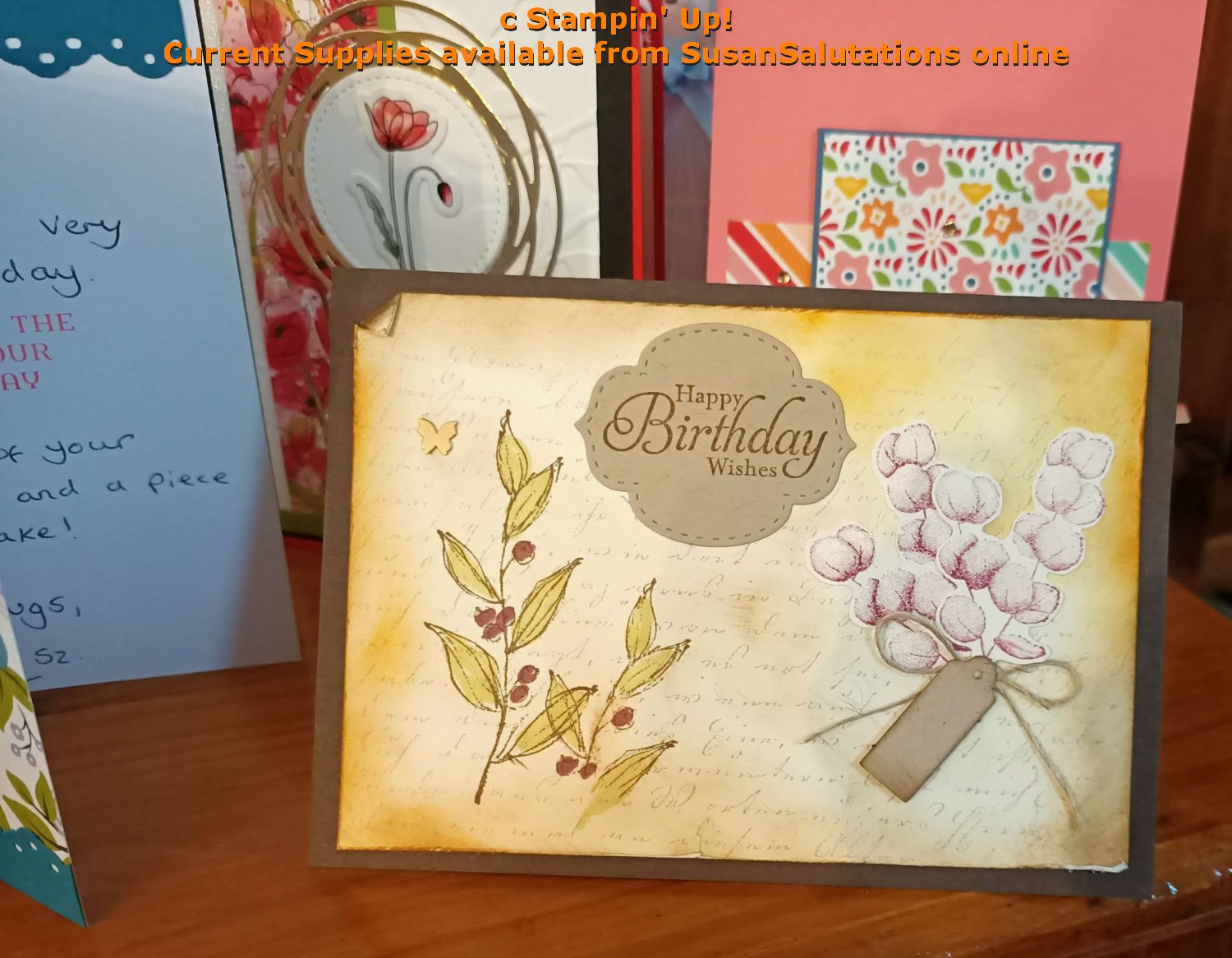 Just some card ideas from 2022, from other crafters I know.
Celebrate Sunflowers Card Idea
Friends were celebrating their 50th wedding anniversary! How could I not make a card for them?
They both love gardening and bright sunflowers, and isn't the 50th anniversary a golden one? So I chose the Celebrate Sunflowers stamp set. I decided to stamp and colour the flowers with blends to allow me to add depth and dimension.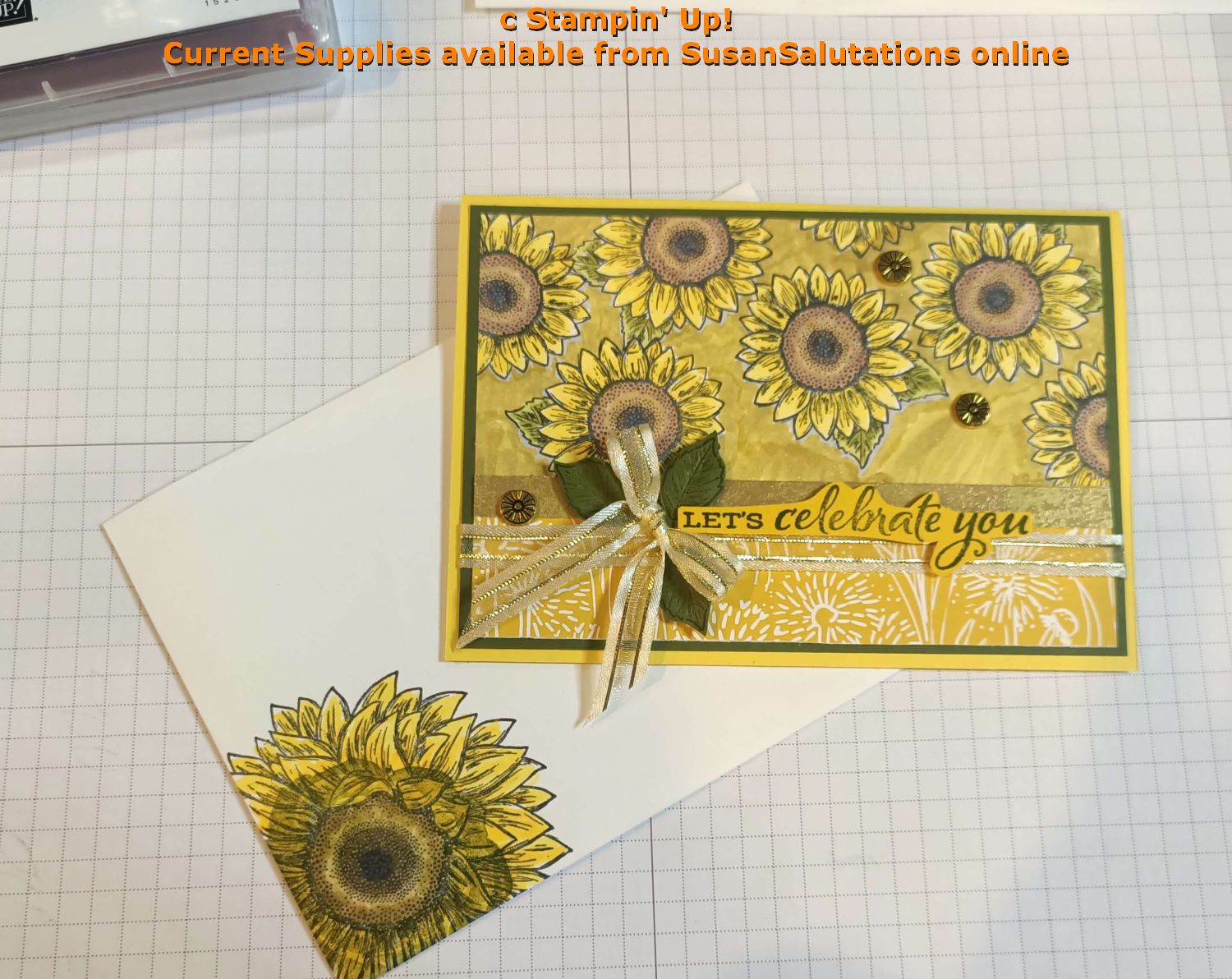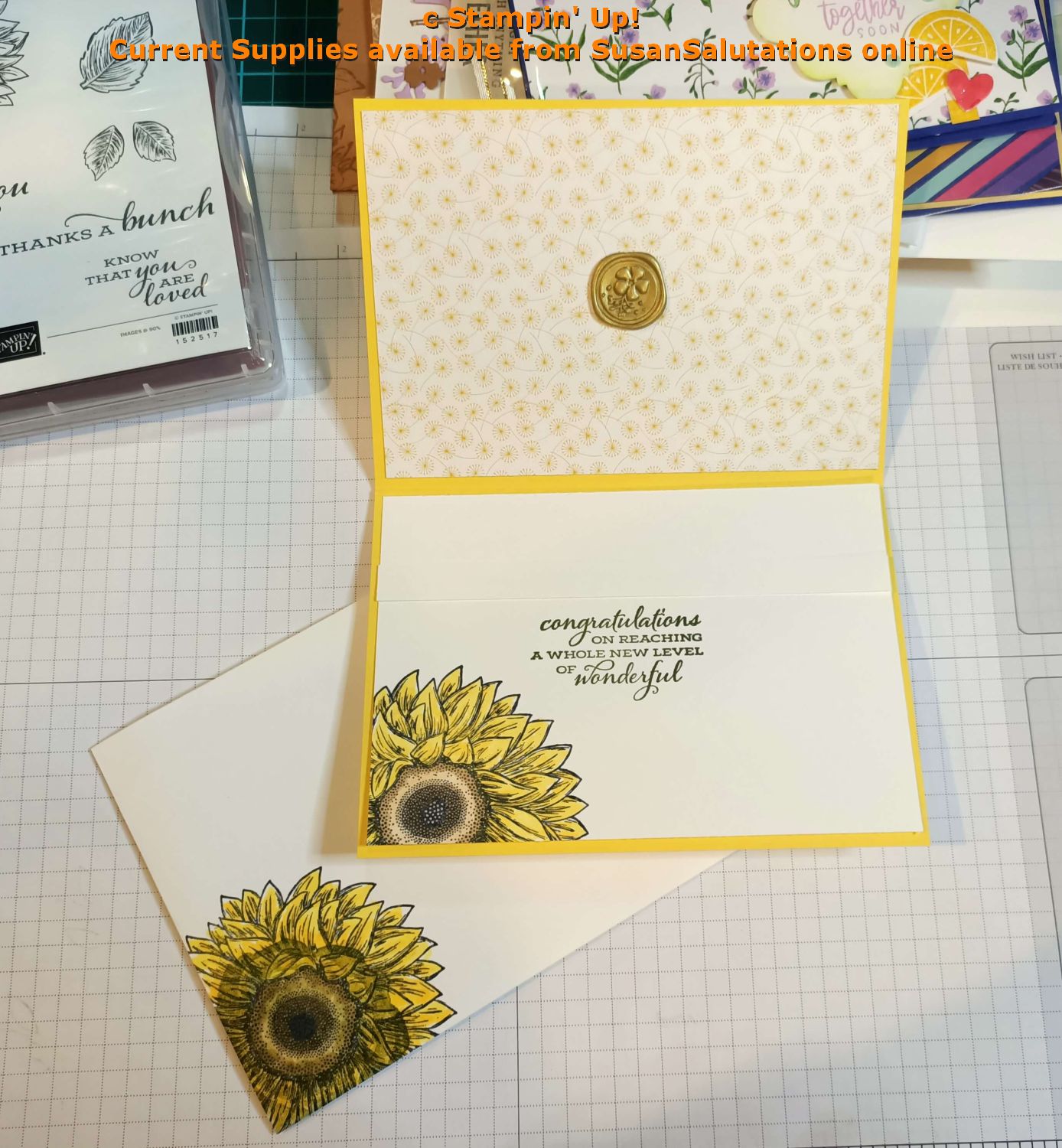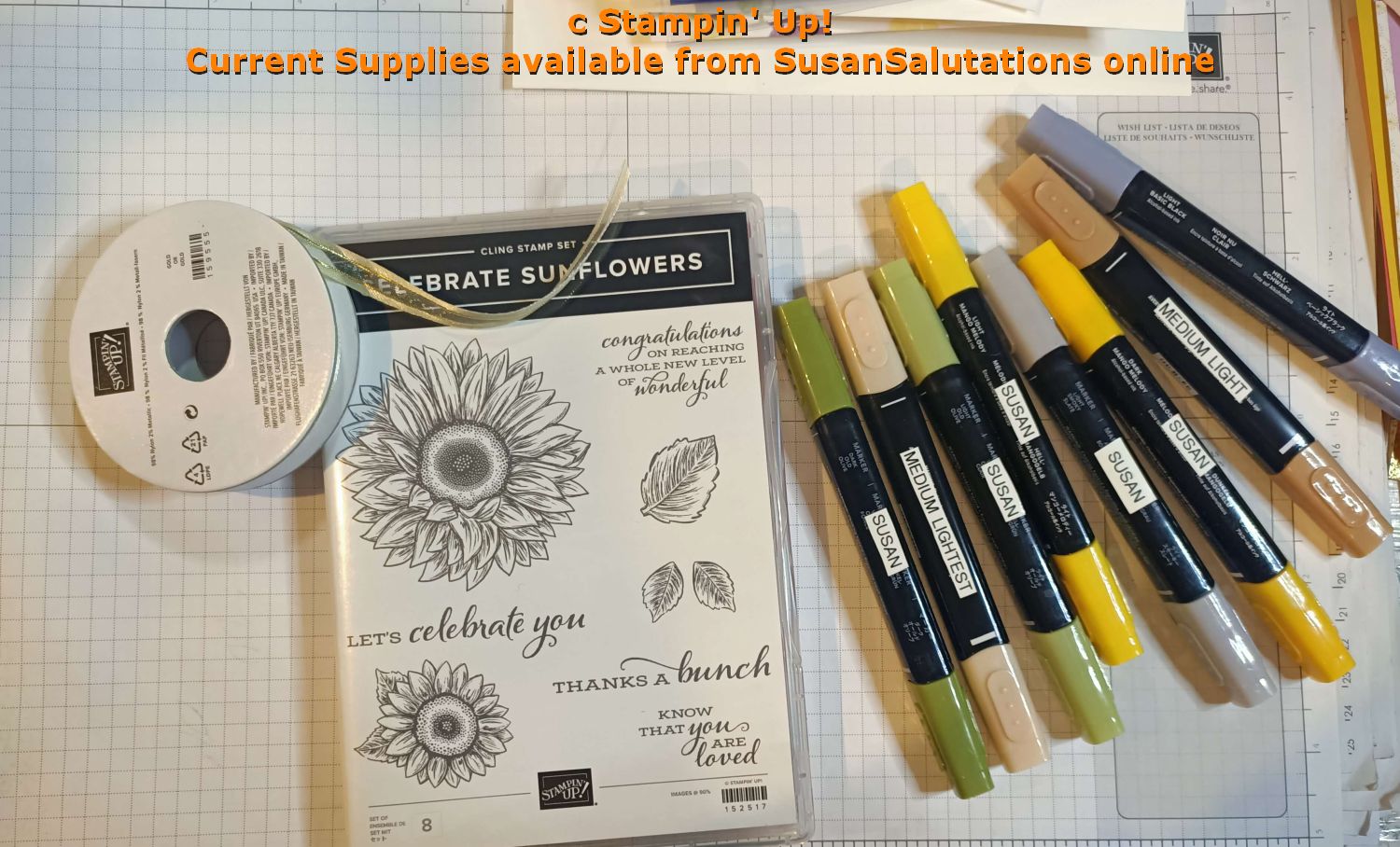 Happy milestone anniversary to my friends!

In May there were a few more classes, and I started to think about the new catalogue coming out in June. Just some card ideas from 2022.
Of course, we had to be ready for Mother's Day too. I no longer get to celebrate with my own Mother who passed away, but I always think of her and try to honour her in some way. I thought of her as I made these Mother's Day cards for a Market stall I was running and do you know, all of them went to people who wanted to honour their Mums.
That was a lovely thing to happen, don't you agree?

Healing Hugs Stamp Set
I love the realistic appearance of the rose in this stamp set. It doesn't take much to make a really special card with a Distinktive stamp set.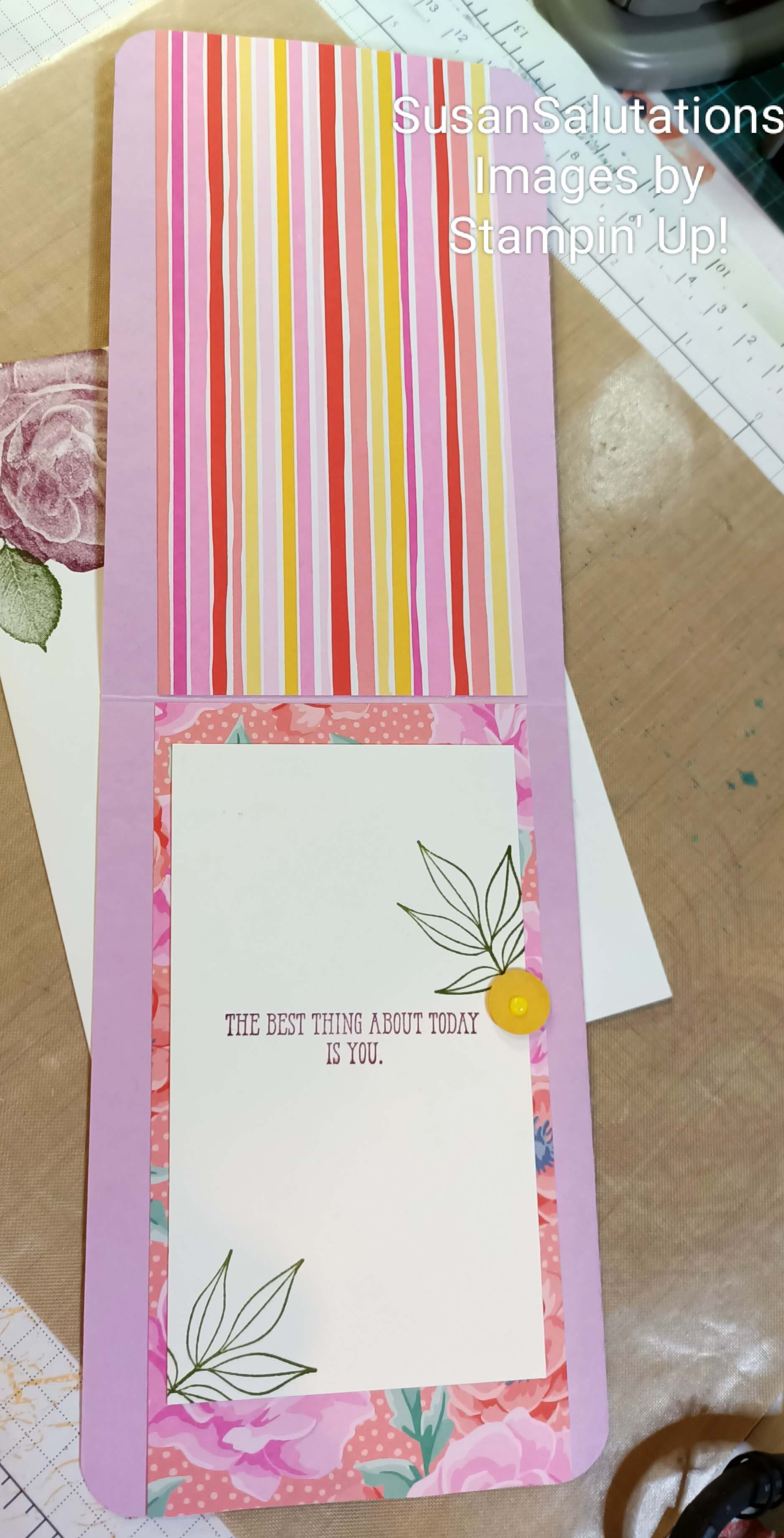 Bottled Happiness Card Ideas
I love that Stampin' Up! makes coordinating stamp sets, cardstock, DSP, punches, colouring tools and more! It takes the guesswork out of matching and makes creating a fun thing instead of a frustrating, fruitless search.
The Bottled Happiness stamp set came with a punch and some cute little domes so we could make shaker cards. The shaker embellishment beads look like drops of water to me.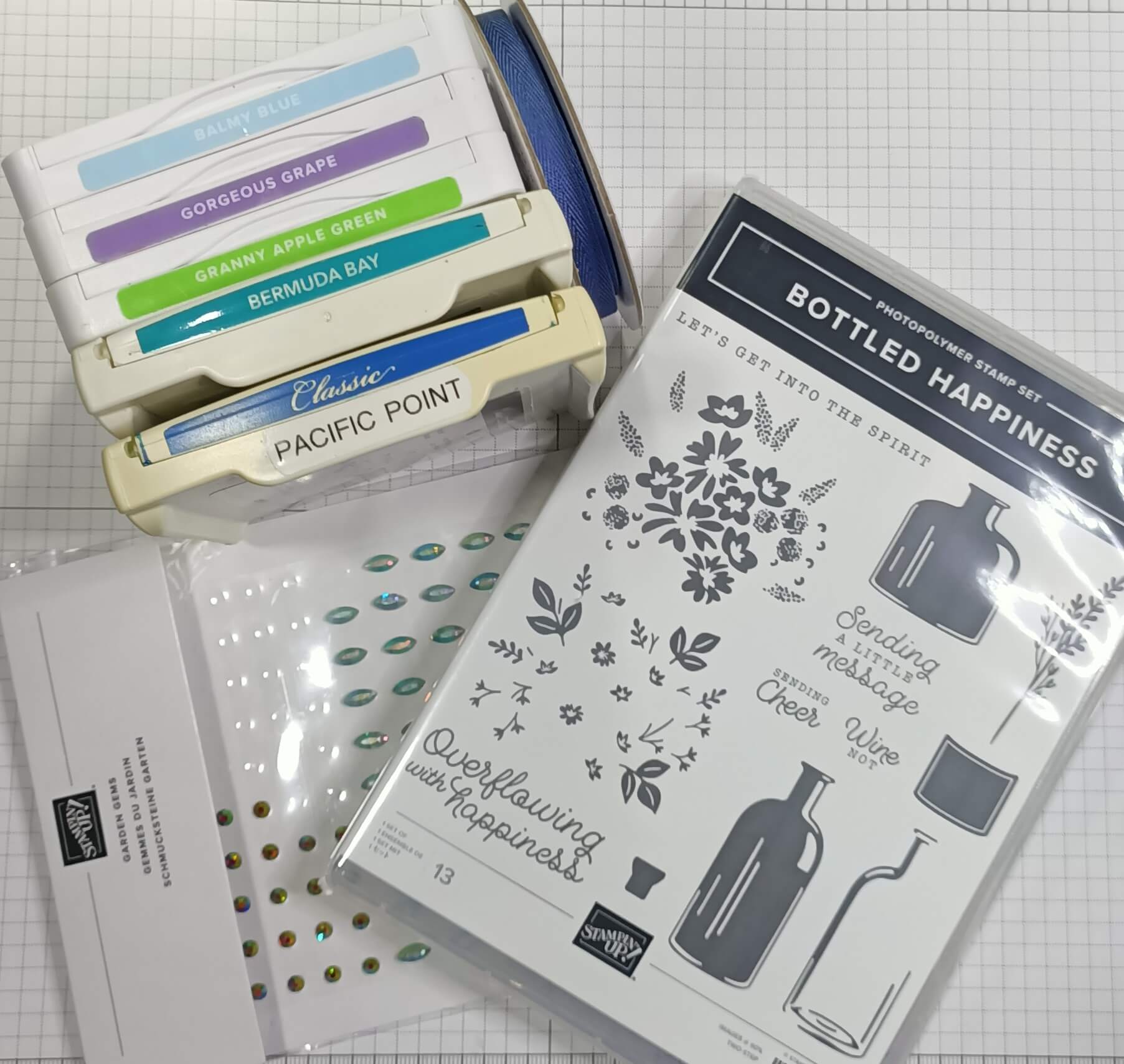 In the above and below pictures, you can see how the flowers and leaves are separate stamps, and the bottle has two stamped images as well

I put all my decorated envelope images in the middle for these three cards. I think the top right one below would be a good masculine card, don't you?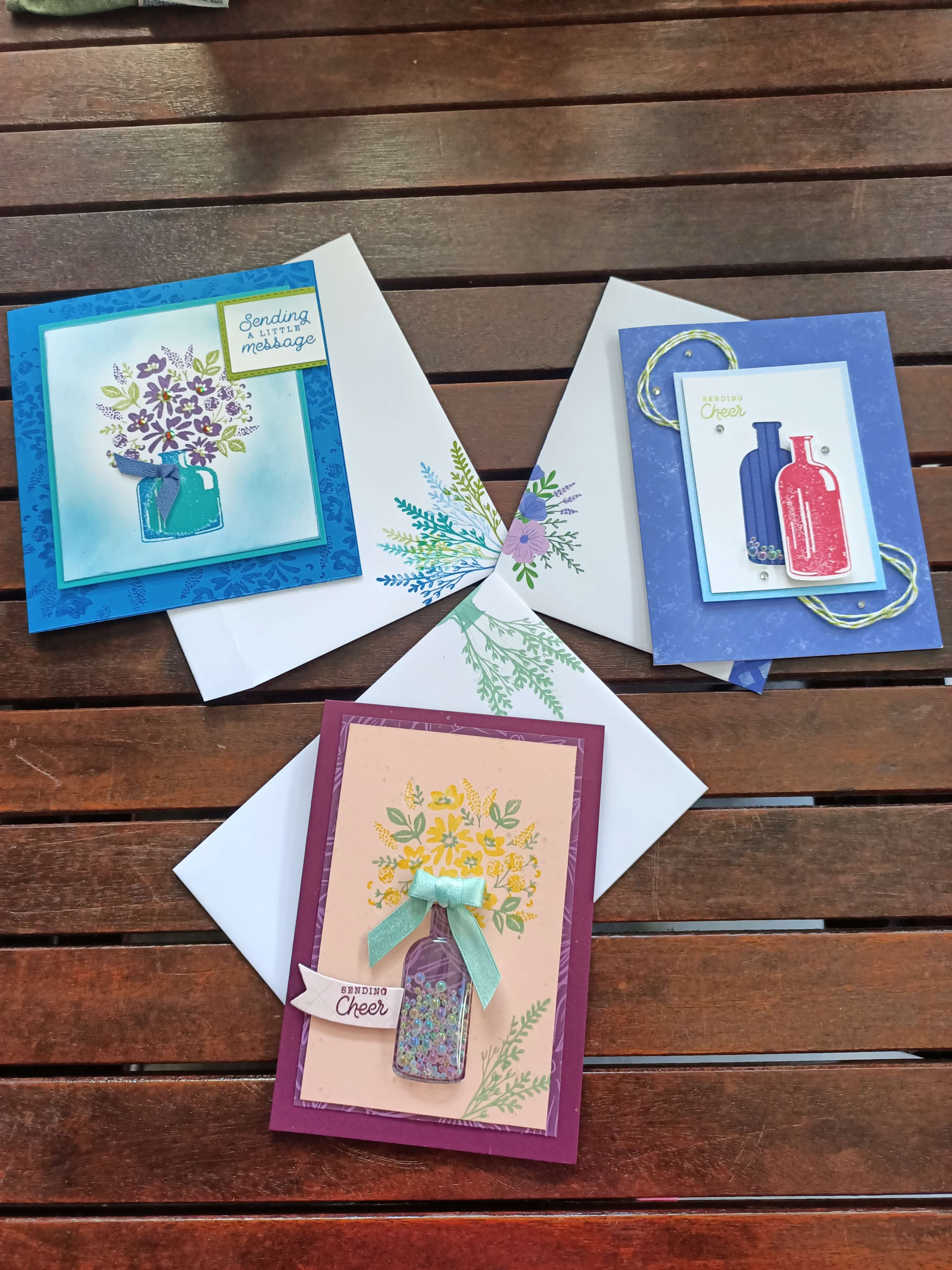 I always seem to stamp a message and some images inside my cards too. They don't feel finished till I have decorated the insides. As I have the ink and stamps and can create endless images, why not? Lol! I do stay mindful that I need to write names and messages too so leave some white space!

These little iridescent beads I could put inside the shaker dome are so cute! They remind me of water bubbles. one of them ever get stuck either as the shapes are all rolly-round.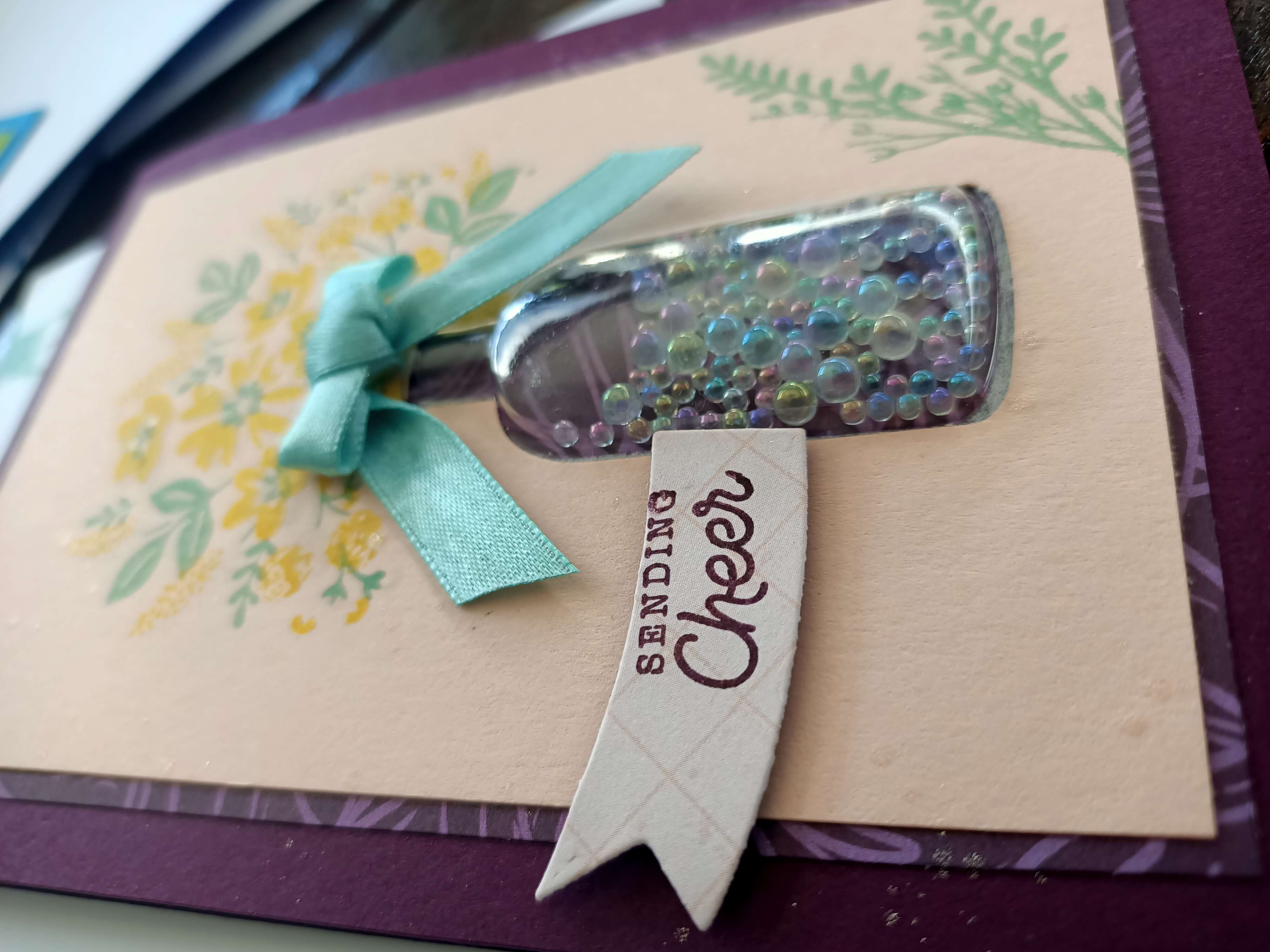 It was Anzac Day this month, the day we honour our fallen veterans in gratitude. I always make poppies then if I can, and this year was no exception.
I already had a flat wreathe I had made previously, and I made some new pins too to clip onto the wreathe after we wore them to the Ceremony that happened nearby.
The Peaceful Poppies stamps and dies made all of this so easy, I made a couple more pins to give to friends.
Thank you to all the ANZACS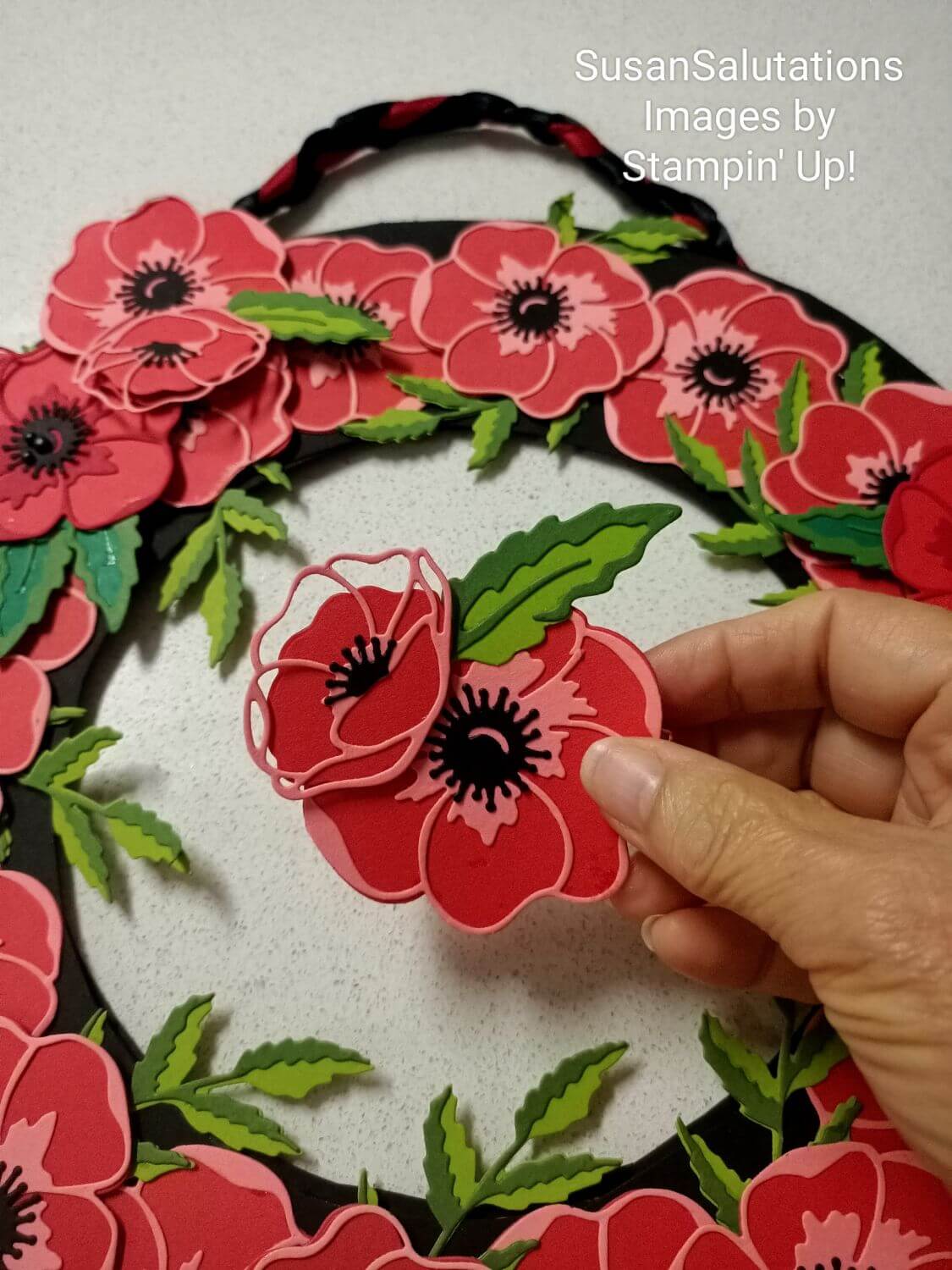 Continuing with Some Card Ideas from 2022
Hydrangea Haven Cards

This pretty stamp set can make simple, one layered cards fro you all the way up to three dimensional flower heads. I really enjoy playing with the two layers of this set. You get a stamp for background colour as well as a detailed image for the little flowers.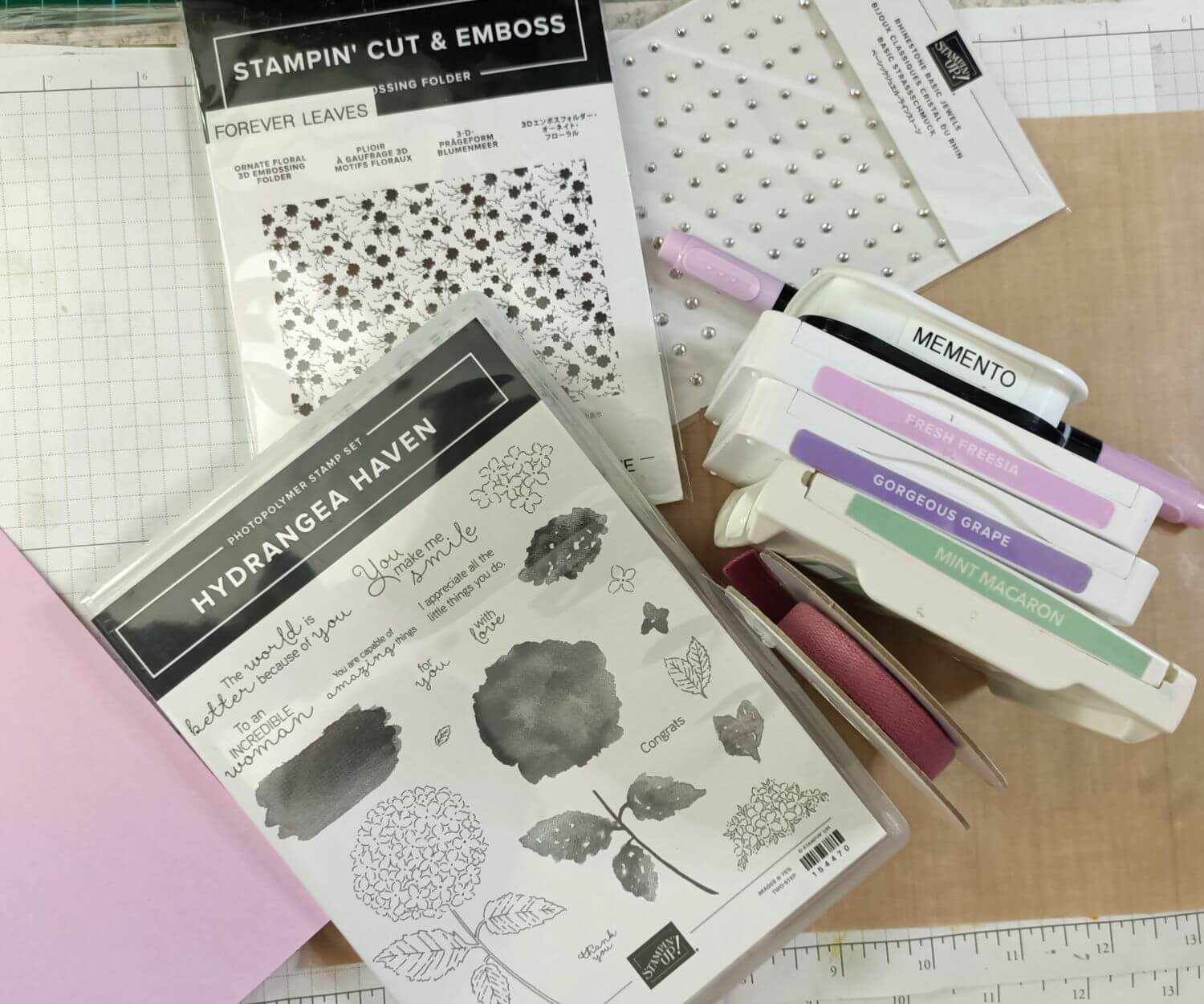 For a class I held at home this month, we stepped up the flower with the dies. That really changes the flower! We also played with the Mercury Acetate as a background for our flower images. I really loved how these turned out.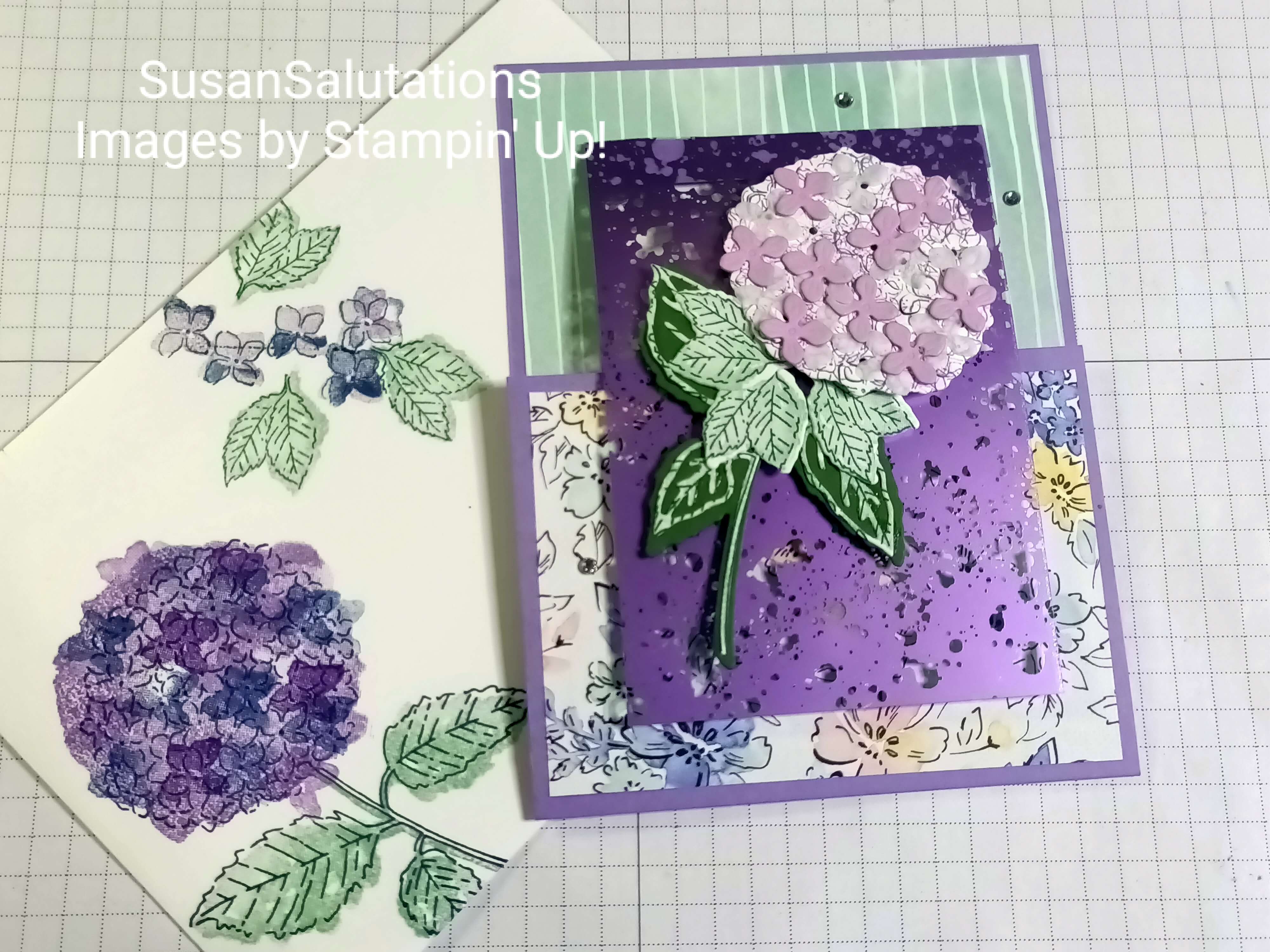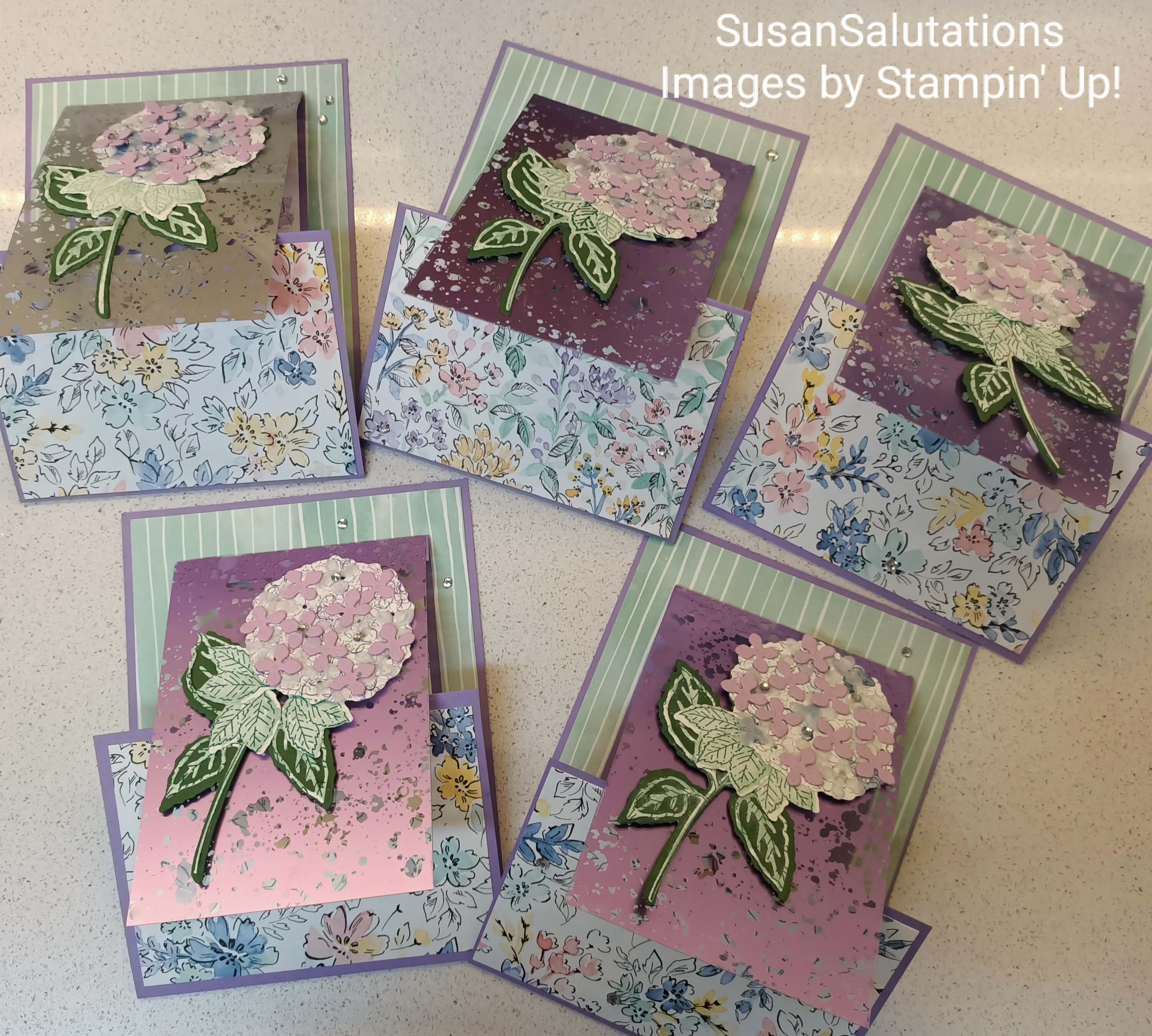 Just some card ideas from 2022.
An Easter Friends Card

For my granddaughters, I made an Easter card with the cute little ducklings and chickens from the Easter Friends stamp set. I added some pansies from the Pansy DSP we had in the catalogue last year.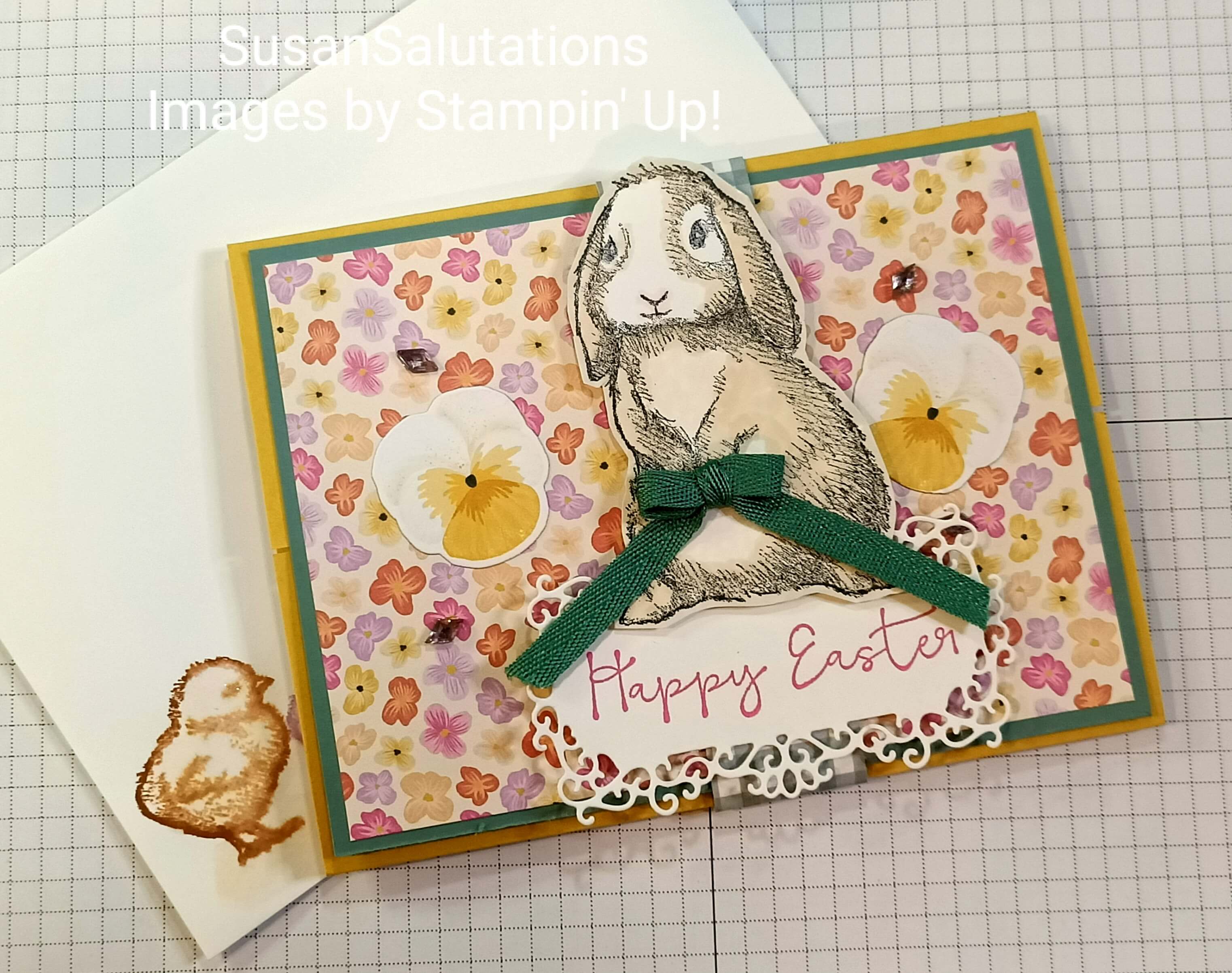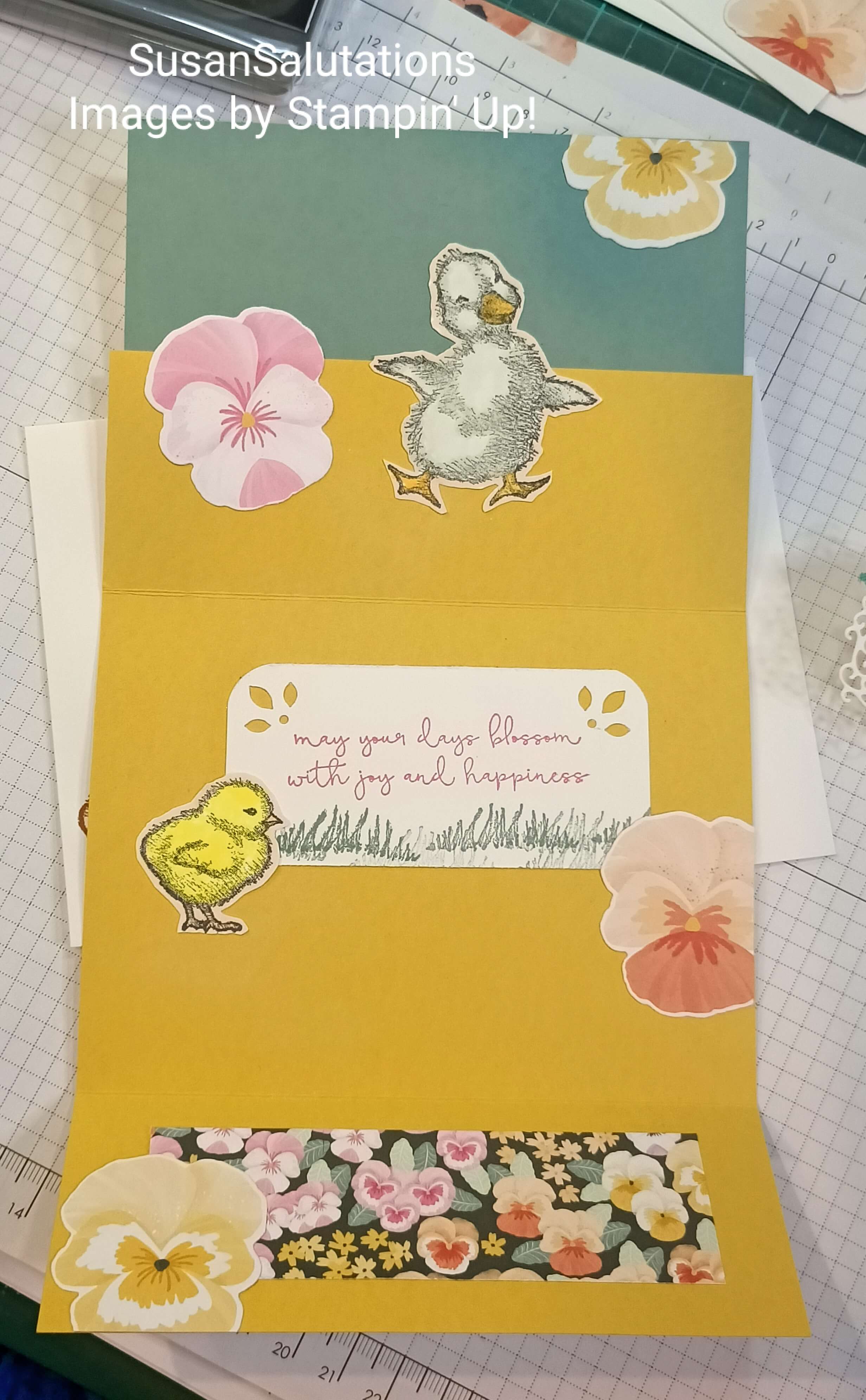 St Patrick's Day Card Ideas
Did you know you can make shamrocks with a heart stamp? Just stamp the points of your heart in the middle to make three and four leafed clovers!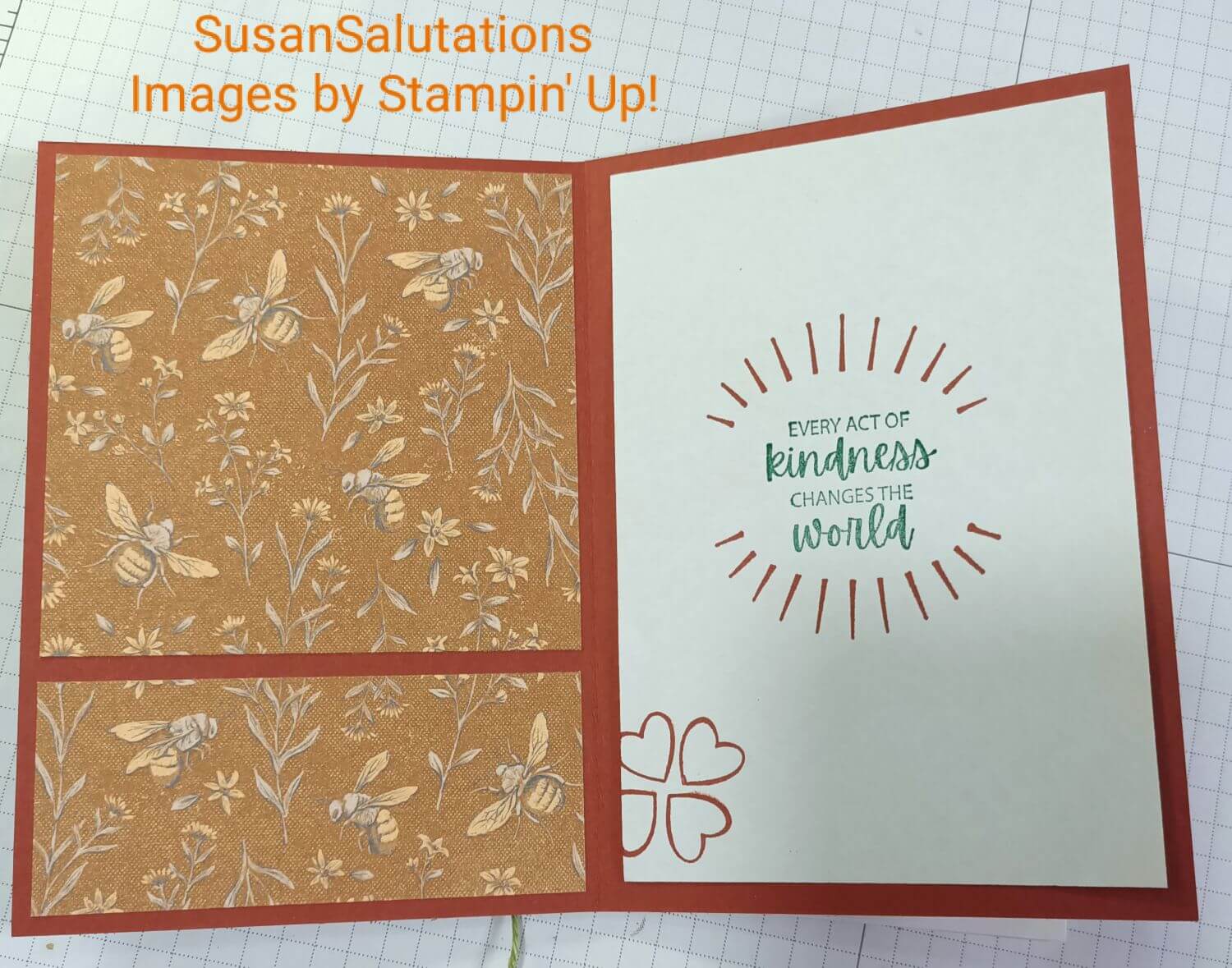 I chose the Hear Together stamp set and supplies to make my St Patrick's Day card this year. I just suddenly thought I could place a green heart inside the hands! So I did.
It would probably be even better if I had used the dies to cut out the hands and popped them up over a cardstock green heart. That's an idea for another card as I could change the colour of the heart, say to pink, blue or yellow for a baby card, or red for Valentine's Day etc.
Just some card ideas from 2022.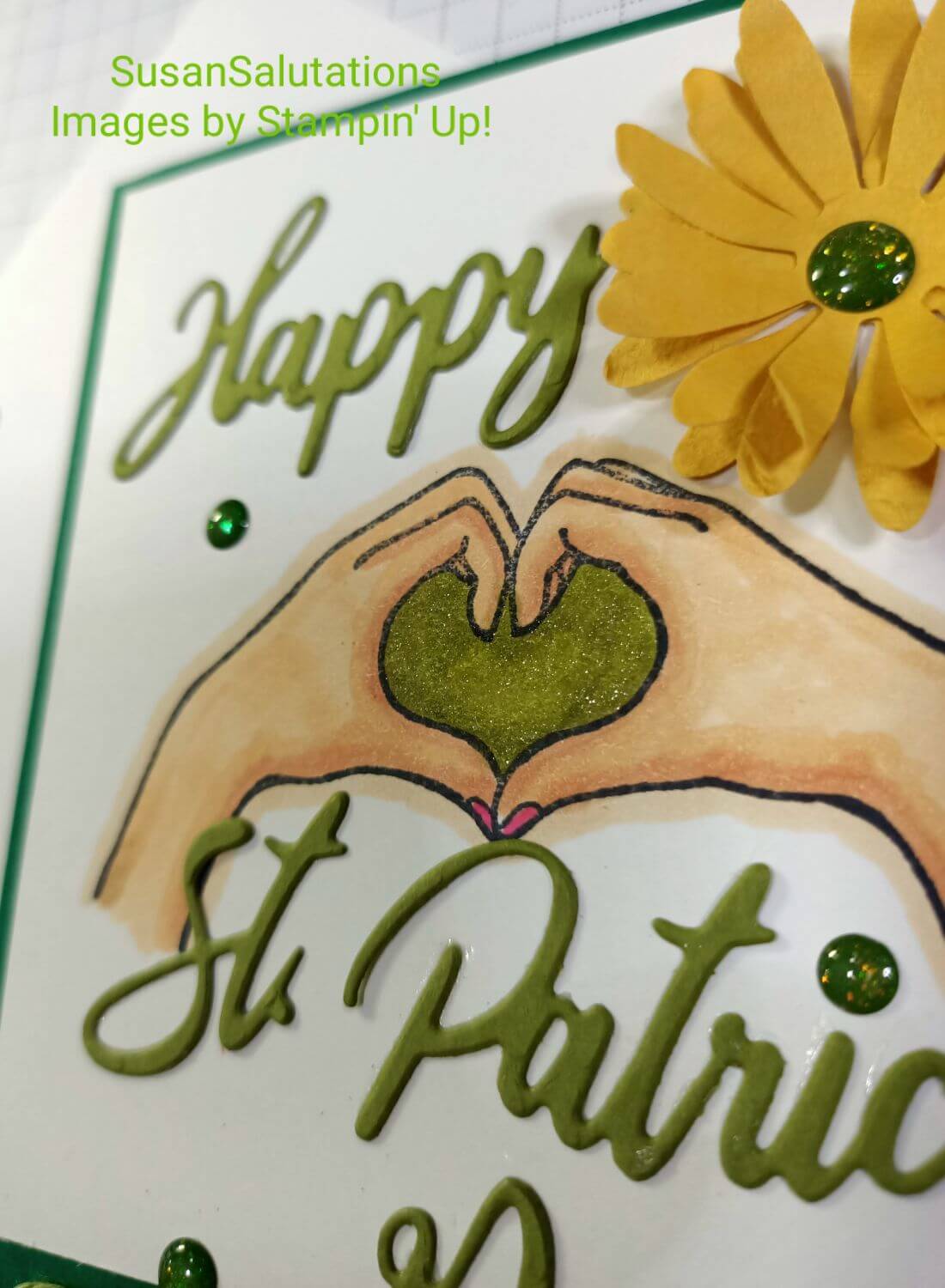 I liked how my final card turned out. What do you think? I'll post the supplies picture under my completed card for you.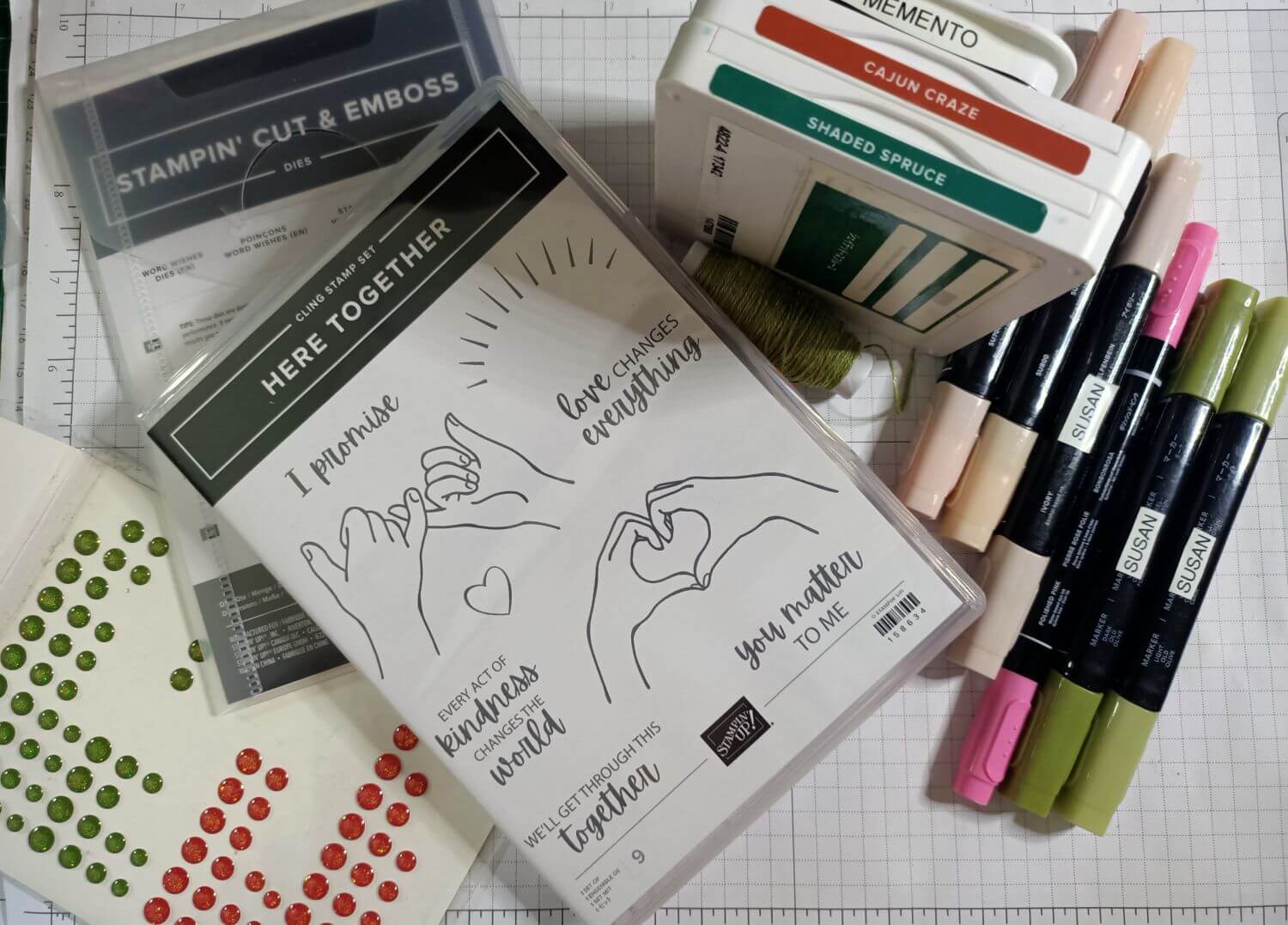 Very Versailles Card Ideas
It's fun to make something for your craft room, and that's exactly what I  did in March this year.
I chose the Very Versailles stamp set to make a page with some designer series paper, the and then I made some Faux Suede Flowers to go with it. I added some words cut with the Word Wishes Dies.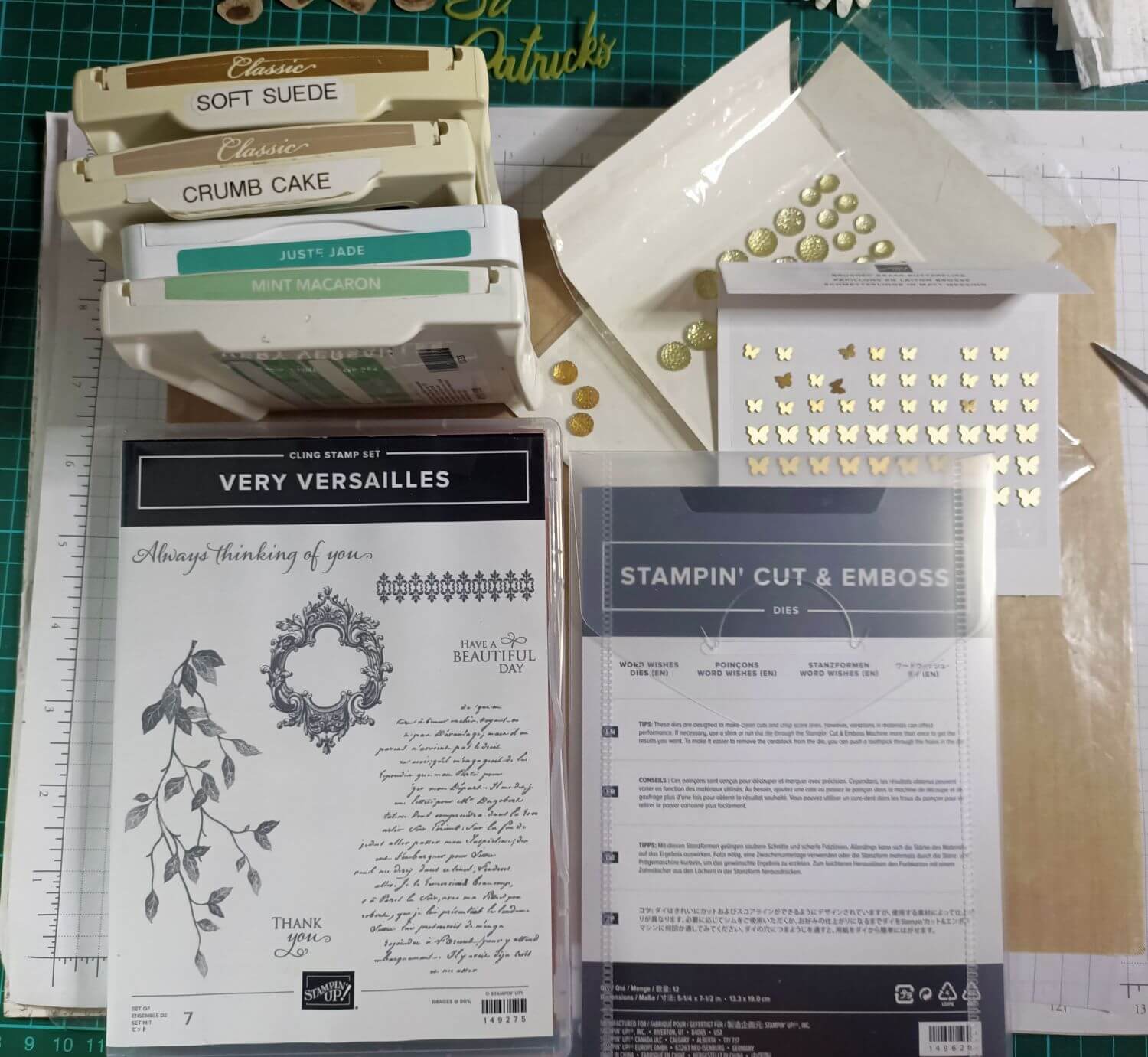 It took me awhile to make the flowers, but I did it while I was having a cuppa with some crafty friends.

I stamped my background directly onto the designer series paper then added my die cut words, and I adhered my flowers so I wouldn't hide my words.
It was a fun project. I can easily see how this 6" x 6" square could become a page in a scrapbook album, or become a feature for a 12" x 12" page. Just as easily, you could turn it into a 6" x 6" square card by adding it to a card base.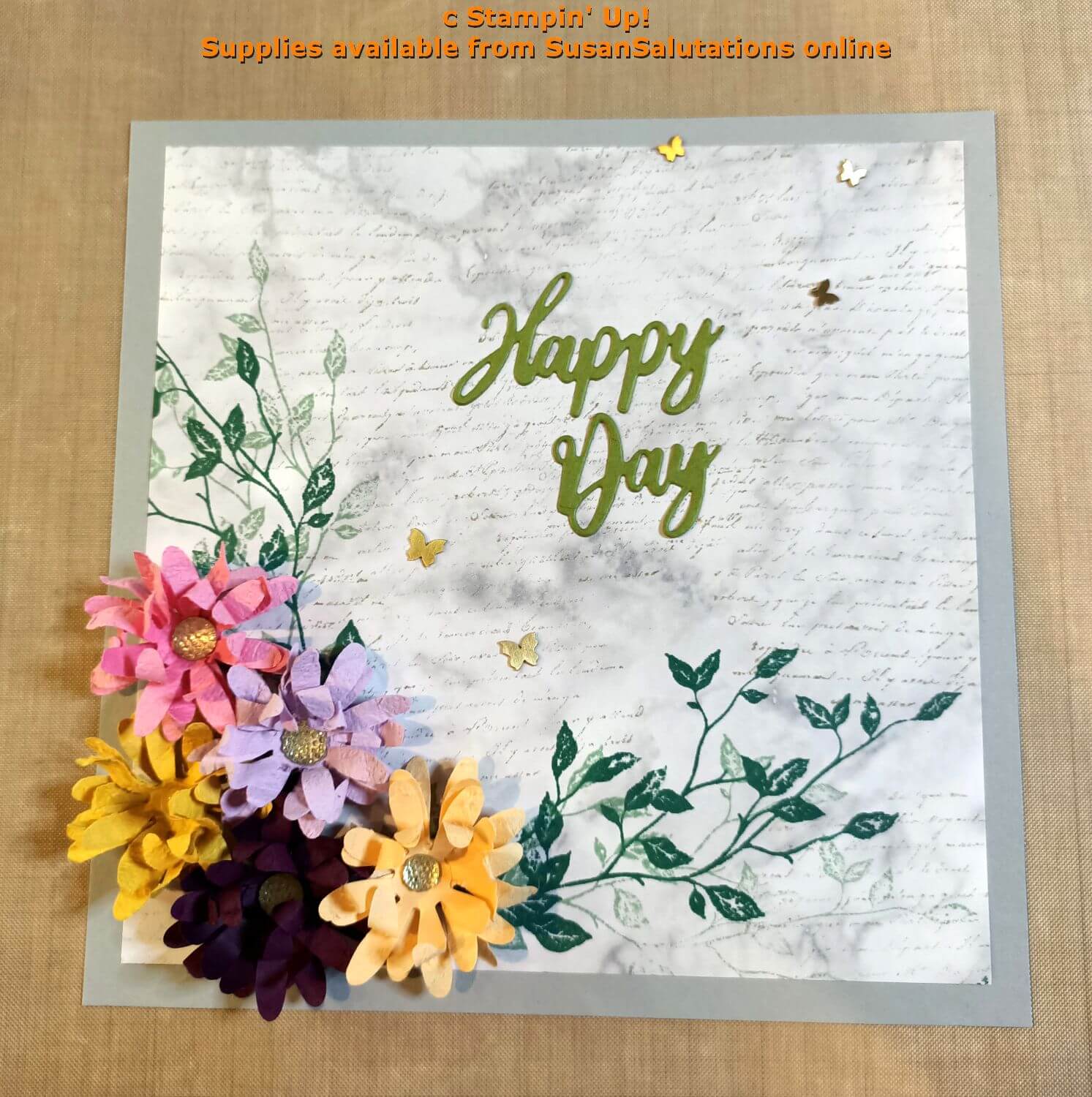 Valentine's Day Card Ideas
It was easy to choose the Sweet Conversations bundle to make my Valentine's Day card ideas up this year!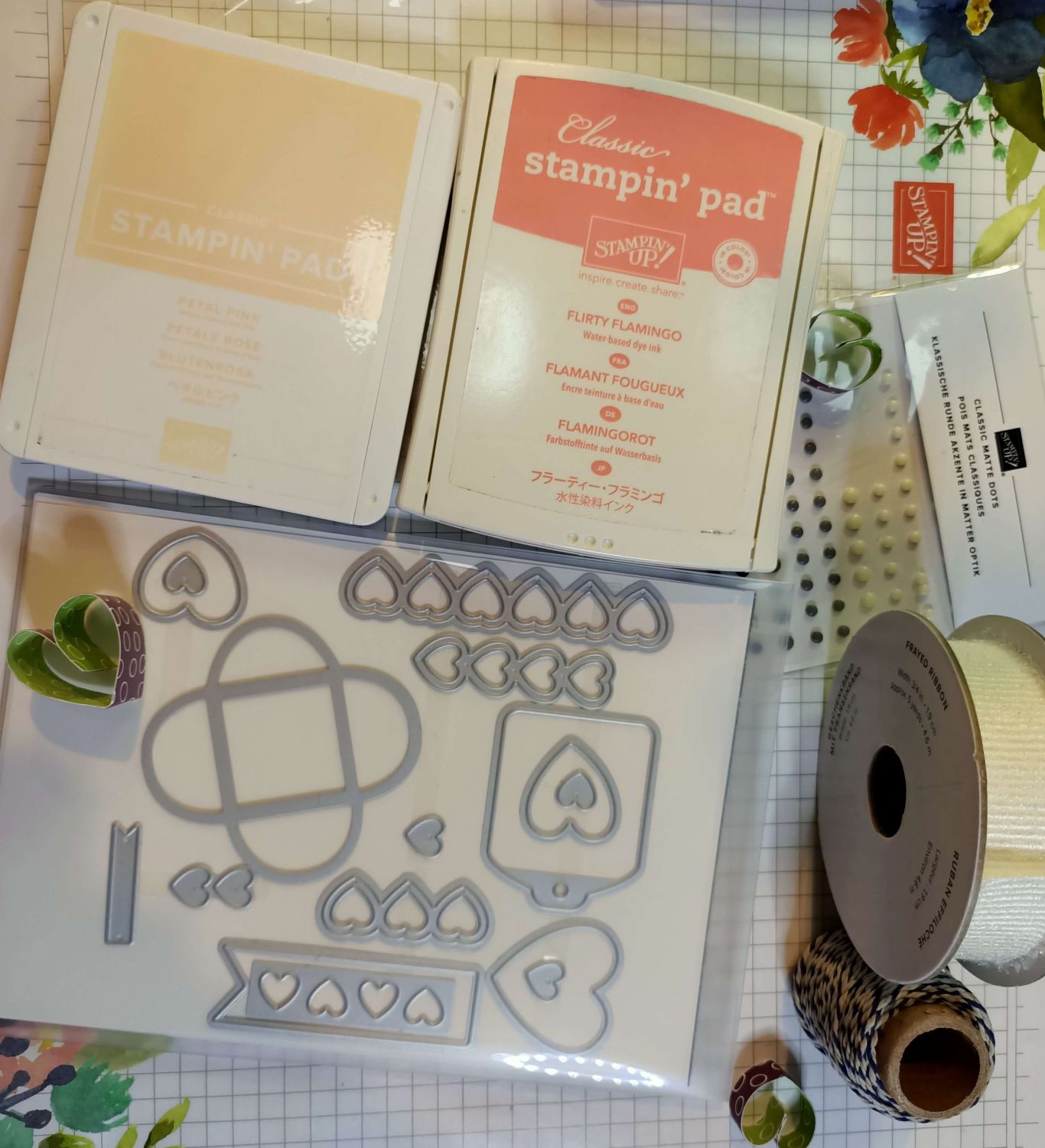 The stamp set itself inspired me. Just look at all those cute conversational hearts!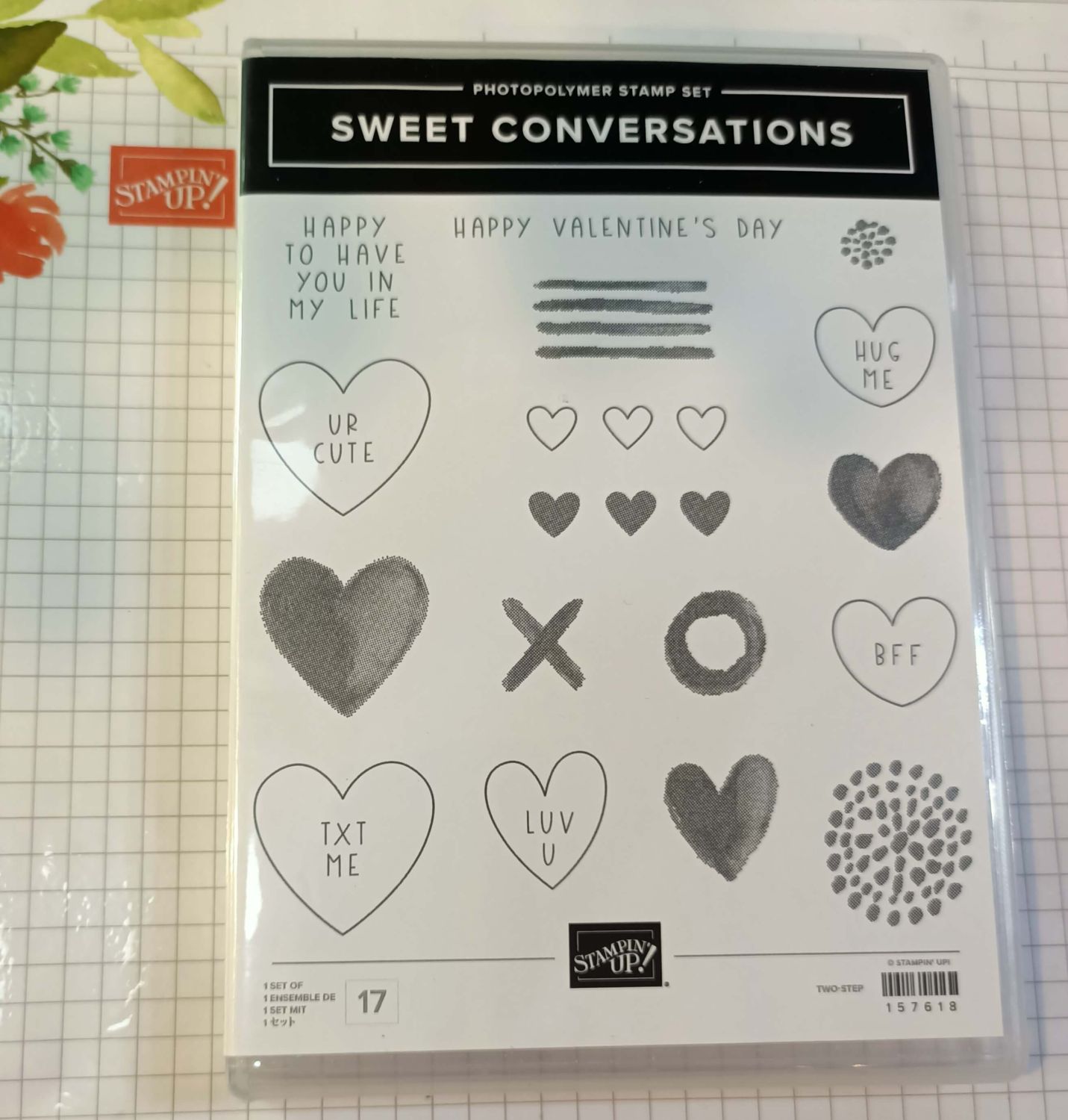 So I used the dies and the stamps to create this card with a few other elements like gems, ribbon and twine.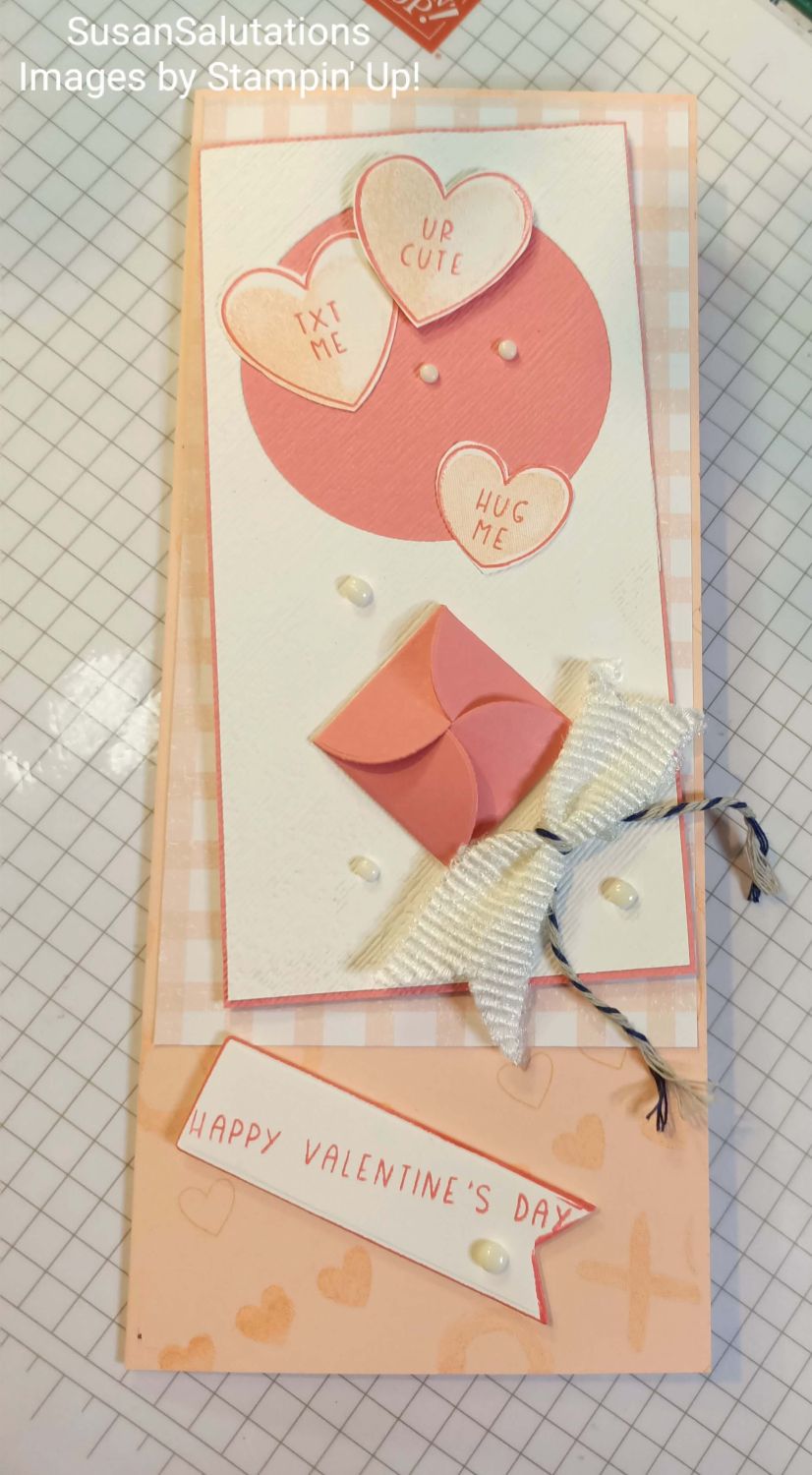 The inside of the card was fun to create as I had quite a few leftover hearts to pop up. I had to make some of every image and message, of course.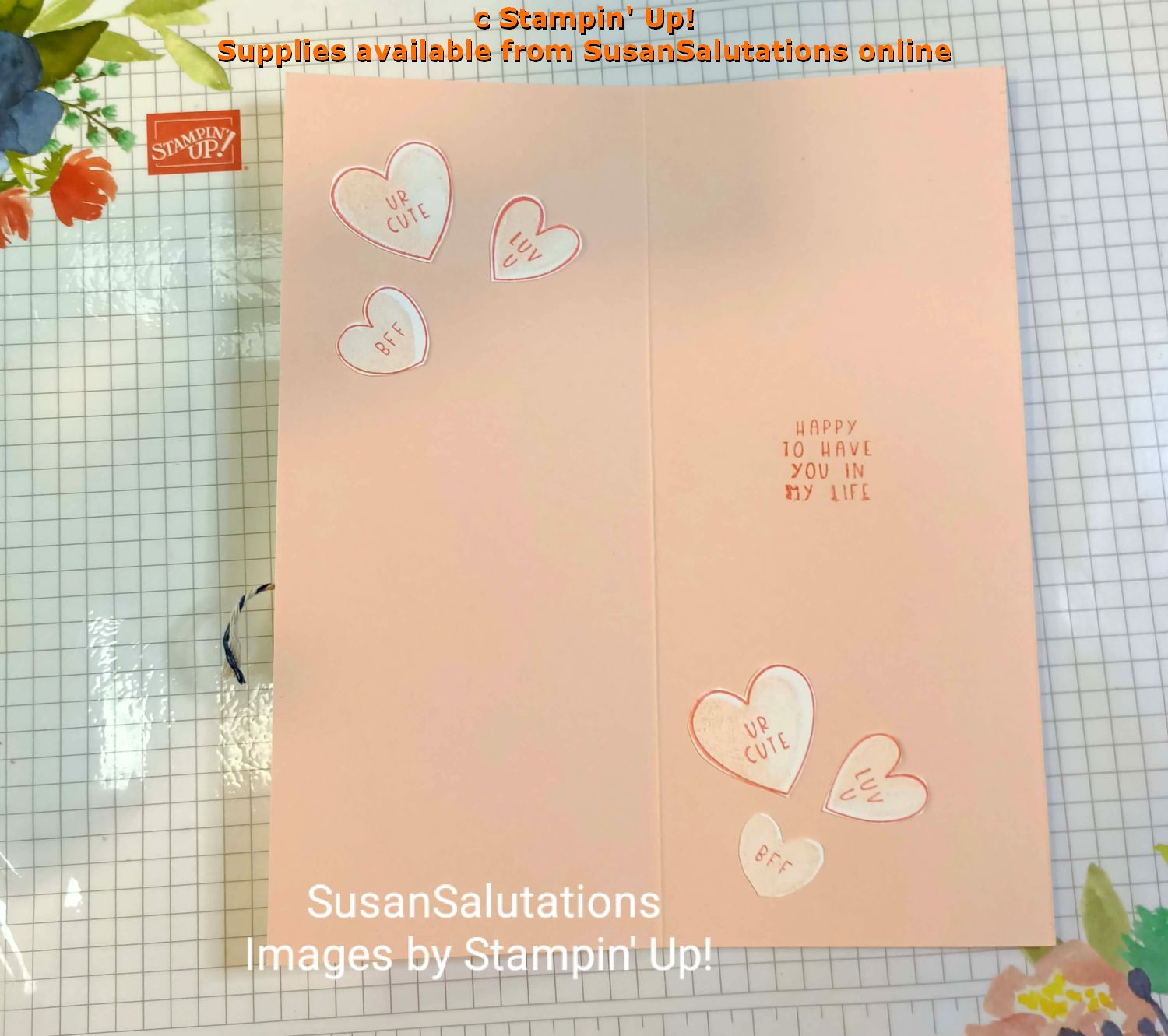 My favourite bit was the cute little envelope die which was a perfect size to hide one of the conversational hearts inside.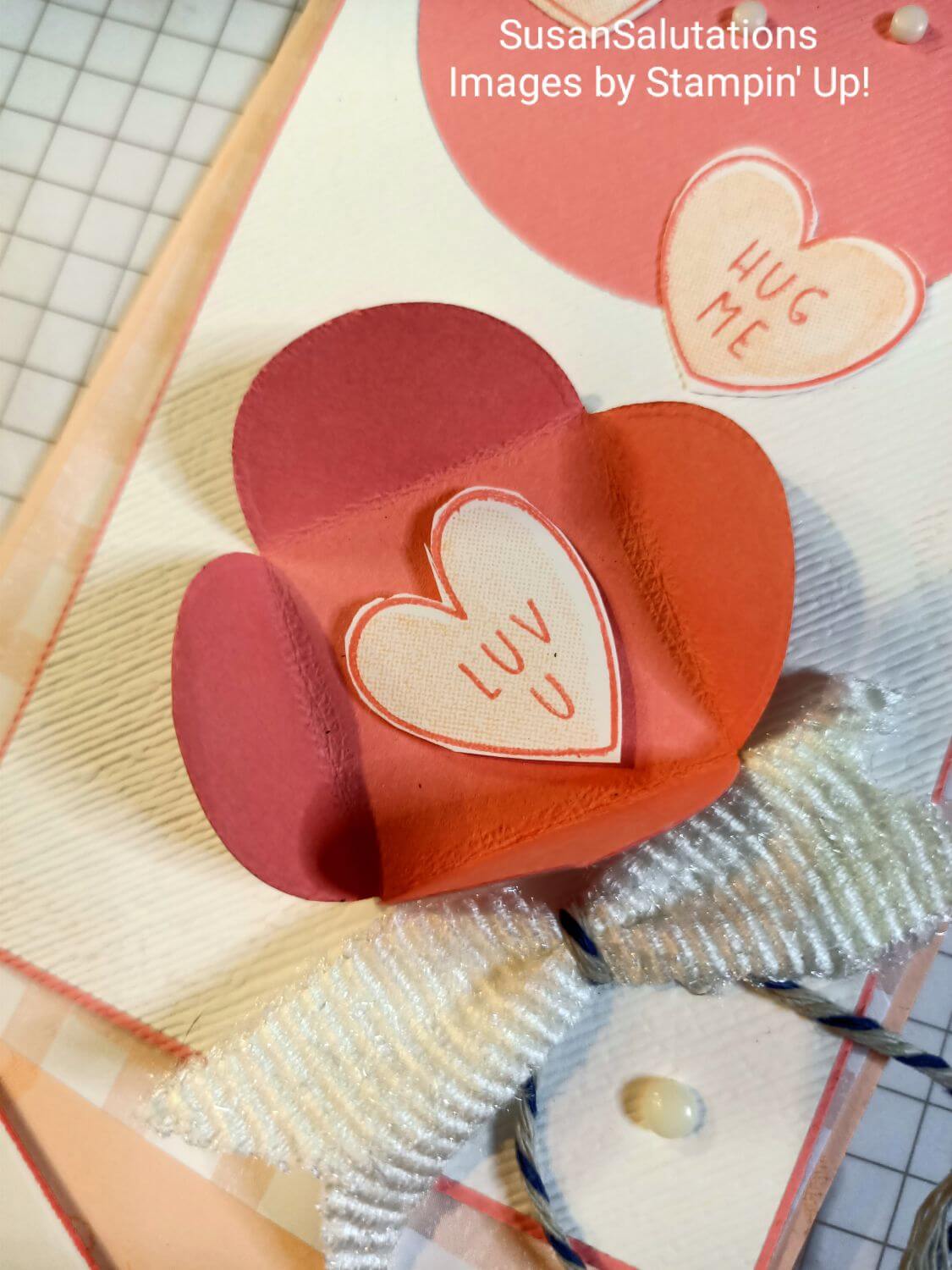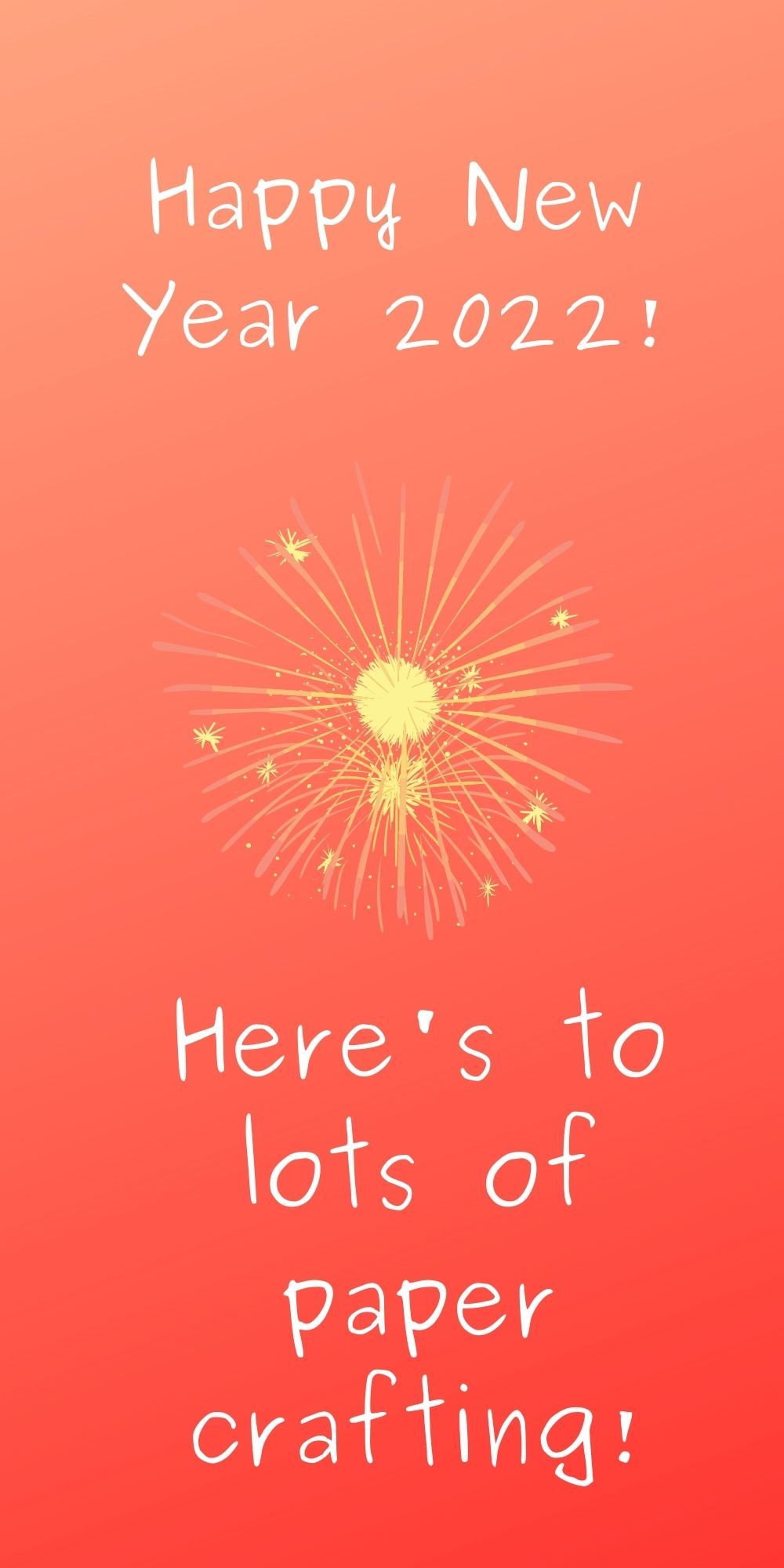 Happy New Year! I hope you have noticed many blessings that happened in 2021, despite it being a harder than average year for most.
For me, I still had my dear husband with me, my little dog Archie, we had a roof over our heads, food on the table, access to medical help, and we even had petrol in the car most of the time.
Of course, I had regular orders from Stampin' Up! arriving too which helped tremendously in getting through some of those lengthy lock downs!
I call that a blessing indeed!
So for my first card for 2022, I created an explosion box card.If you would like to make one today too, do follow the instructions that I just pointed you to. Or you may wish to try out card ideas with an exploding centre! I am thinking of fireworks, of course, with all this talk of exploding papercraft card ideas.

Hubby just got a polaroid camera recently which makes cute little photos. I may or may not use a few of those in my card, but I shall certainly use some designer series paper and cardstock to make my base card first.
I'll be back soon with some photos. The project idea is so fresh, I haven't even made it yet! Lol!
I hope you have time to have some fun with paper this New Year's Eve of 2021.

Just some card ideas from 2022.
Explosion Box Album
I did make the deadline! In Australia as I type, it is seven hours away from the New Year.

While not exactly a card, this little box can be folded flat for shipping, well, all except the lid can be folded out flat. You may need to pack the lid in a little cardboard itself to keep it from being crushed in the mail, but the box definitely lays flat when opened and you can write a message on the bottom or in the middle or even on one of the panels, so to me that could count as one of my card ideas for 2022! Of course, you can personally give this little treasure to someone in person and avoid any postal issues as well.

I made use of some of the new product coming out in January that I got on pre-order to show you how pretty it all is.
The base of the box and lid is made from Crumb Cake cardstock, the designer series paper is called Friendly Hello, the little brushed brass butterflies and frayed white ribbon are new, and the only thing I used from the Stampin' Up! annual catalogue was a Memories and More card from the Hand Penned Suite. I cut out the two elements from a card to decorate the box lid and the inside middle of the explosion box.
Now all it needs are photos from 2021, and I will have collected some lovely memories and Seized the Day (Carpe Diem) for 2021!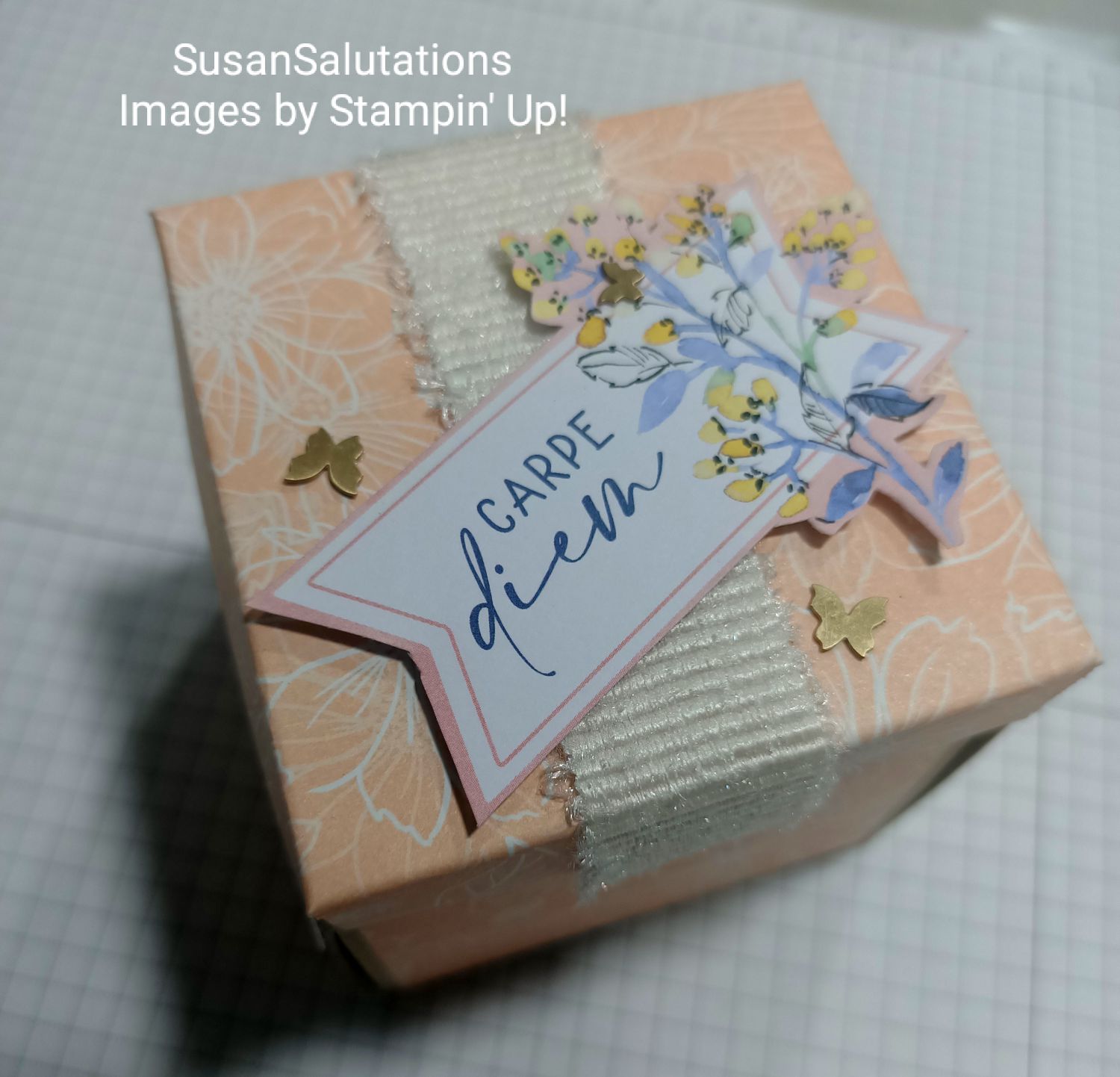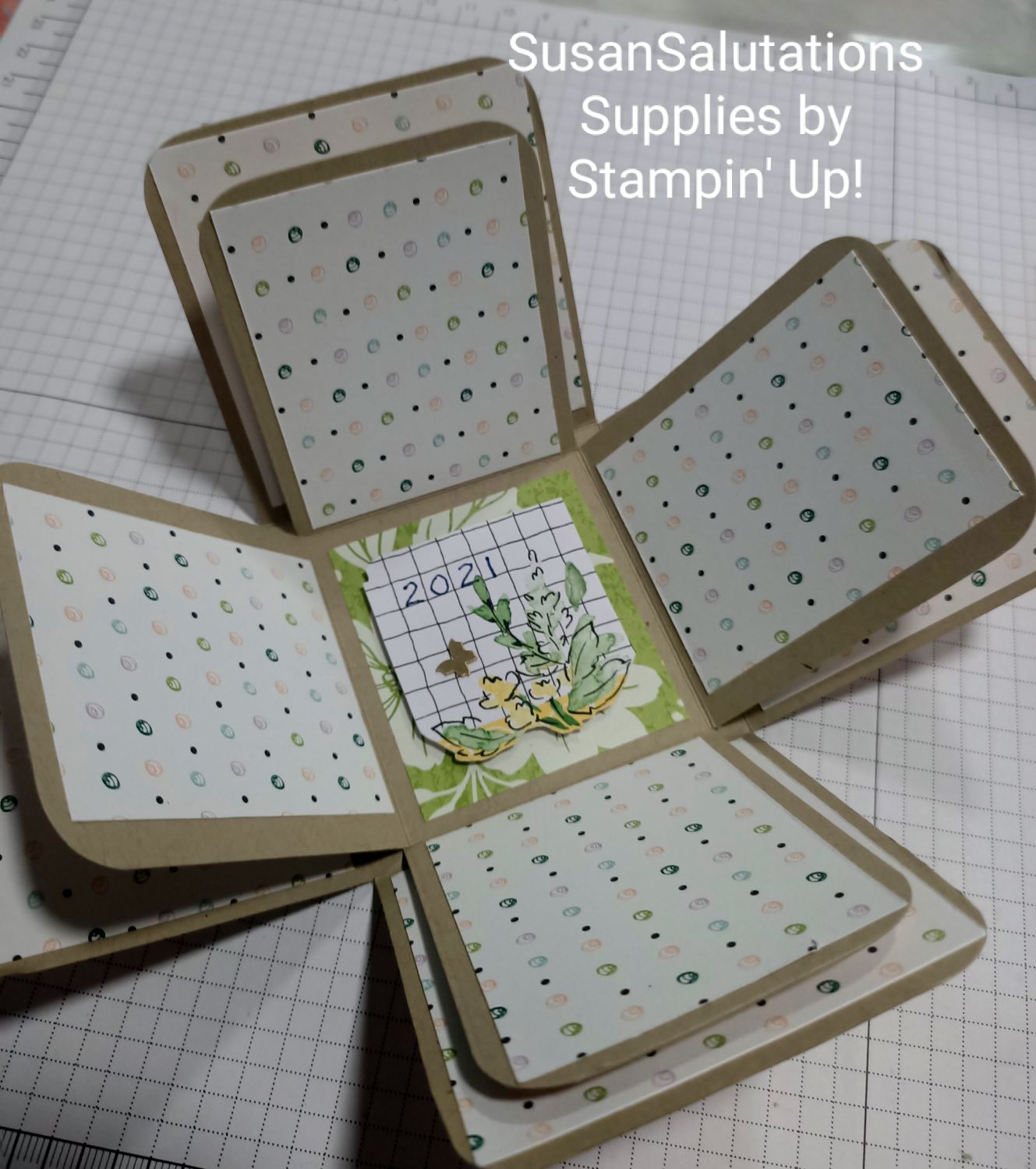 Previous Card Ideas Years on PaperCraftCentral

I like to keep track of card ideas by calendar year.
If you want to see the cards I made in 2021 this is the page you want.

If you are looking for my card ideas from 2020, this is where you can find them.
If you are looking for my card ideas for 2019, this is where you can find them.
I hope this makes it easy for you to keep track!
---
---