Crayon Resist Technique
Cards made with the crayon resist technique often yield beautiful results that can impress people into asking if your creation was store bought instead of being hand made.


"Artists are just children
who refuse to put down their crayons".
~Al Hirschfeld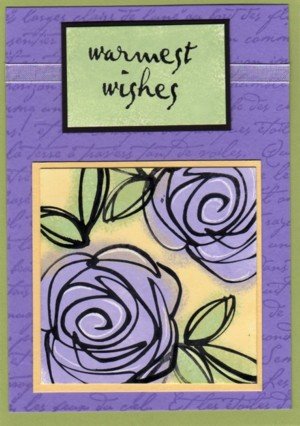 ---
This technique is relatively simple to master and may only take a couple of practice sessions for you to get quite beautiful finished images to use in your handmade greeting cards. This was one of the first techniques I learned about when I first started papercrafting and it has remained a favourite of mine.


And all you need is some simple additions to your usual papercraft supplies!
How to Make Cards with the Crayon Resist Technique:

Here's how I made the sample card shown above. Please note the stamp set is no longer available. Use any large and kind of open flower stamp to create a similar look:

Start with a piece of glossy white paper. Choose your image and stamp it onto the paper with a Stazon or Momento (permanent) ink so it will not be smudged as easily during the sponging process. Make sure your ink is completely dry on the paper before going to the next step.
Using a white or light coloured wax marker such as a crayon or a wax candle, draw on the image so that you highlight certain parts of it. No ink will wind up colouring the waxy lines you apply to your stamped image. The wax protects the paper from the ink. In this case I highlighted the edges of the petals of the stamped flower image in white.
Use a sponge dauber to apply colour to the image with inks of your choice. Here I have used one colour for the flower, one for the leaves and one for the background. You can of course add more colours or use fewer as you wish. See how the ink stays off the wax and highlights that part?
Now you can trim up your finished image and use it on a handmade greeting card.
Below is another example of how to use this technique, incorporating the tearing technique as well.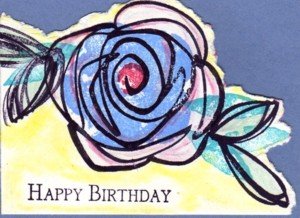 If you make a card using the crayon resist technique, please do let me see your work!
Do You Have A Favourite Handmade Card to Share?
Do you make greeting cards? Please do share it with me.
What Other Visitors Have Said
Click below to see contributions from other visitors to this page...

Pen and Ink Flower Border with Butterflies Card

Freehand pen and ink border with butterflies cut from material and glued to lightweight cardstock. After drying, they were cut out and glued to the card …
Flower and Butterfly card front

Painted on papyrus paper with Jacquard Lumiere acrylic paints. Pat Oh my, Pat, that is a lovely card front. It must look spectacular …
If you liked this technique, you may like to try the Black Magic technique or the Faux Metal technique next.
---
Return from Crayon Resist Cards to Card Making | Return to Papercraft Central Homepage
---